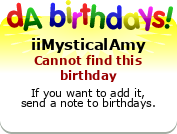 Hello! Welcome to my profile!
I post art here quite regularly, so be sure to check it out...or something, I don't know. You don't have to, but whenever people say that they sound professional or something.
This is my oc, Erin. She was designed by

, you should check her out. She has really cool and affordable adopts!