This has been sitting 2 inches from finished for like a week and a half, finally slapped shading on it and tossed it into life.
Calyx finds Somatisilik trying to steal some cubs and a pretty kadin and decides she's not having any of this, and the cub's adoptive mother Also Decides she's Not Having Any Of This.
Yeah, Silik? If I were you I'd be running. Calyx or Shani Alone would be too much for you, big boy, them working together? You gonna die.
Thank you
pawstepsinthesnow
and
SunriseHill
for letting me borrow your kiddos for this piece!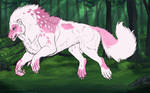 Skill Unlock: Cover
Image size
2000x1300px 2.86 MB