Description
It took a looot of time trying to figure out how to compose this and how to draw the basalt pillars without murdering my hand.
That said it's always a charm to draw Kaleo, especially when Kaleo is miserable and wet.

Eggceptional Footwork
Obsidian Bluffs

Honor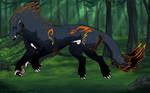 Skill Unlock: Surefooted
Image details
Image size
1450x1732px 2.68 MB

Aaaah, that looks so good! Especially the drippy rain effects, that's really impressive.