Welcome and hello all!
I'm opening some sketch comms, starting at $2 and will get more expensive the more complex the picture gets!
An example of a comm is here: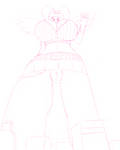 Which costed $3
I do allow some discounts on group orders, though I may sager them between other orders to try and make it so people don't way too long :3
I'll do giantess, breasts, lewd things, Futa, pretty much anything bar scat.

If you have an questions let me know, best way to get in contact is over discord, though a note is also okay.