Hi I'm going to be screenprinting t-shirts over christmas break. My mom is opening up an etsy shop around the same time, so I'm going to see if i can try selling some shirts on etsy for fun. I need some help figuring out which of my ideas might be a good one to try first.
Here are some ideas so far:
1. A rendition of Life's a Shocker (the original is attached here, I'll change it a bit but this is the basic idea)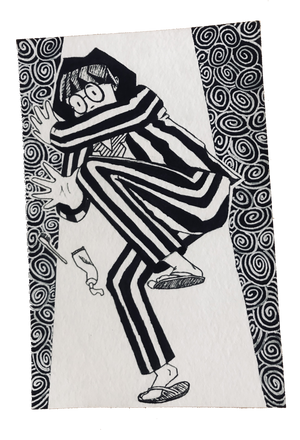 2. Something Vaporwave... Roman statue, plants, checkerboard, AESTHETICS, you know. Maybe a rennition of la Croix font that says Los Angeles Croi X (roman numeral 10)
3. Plain white t-shirt where I've screenprinted the pocket to look like you have a bunch of tropical plants coming out of your pocket.
4. A cool font that says "END MEN". Probably only appeals to extreme feminists in reality, but i just think the expression is funny because it is a bit absurdist.
5. a cool racecar design
6. abstract shapes with lots of shadows
7. 4 panel comic about something, i'm not sure what yet
8. b/w drawings of famous comics artists
LMK IF YOU HAVE IDEAS OR OPINIONS