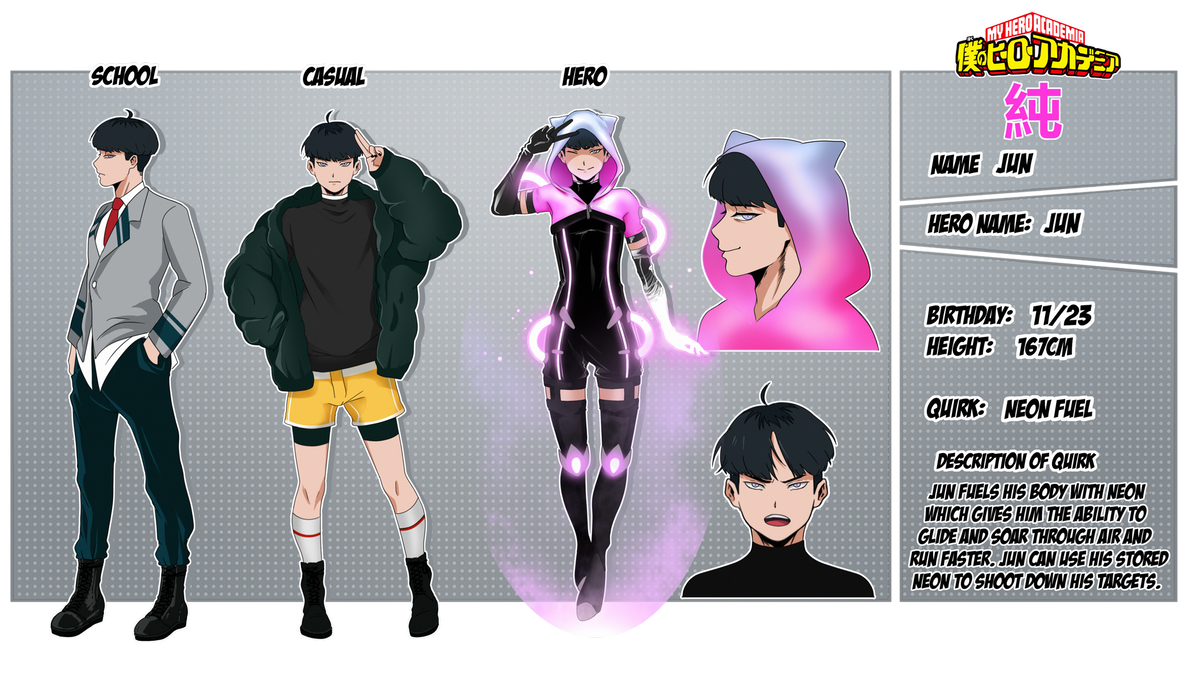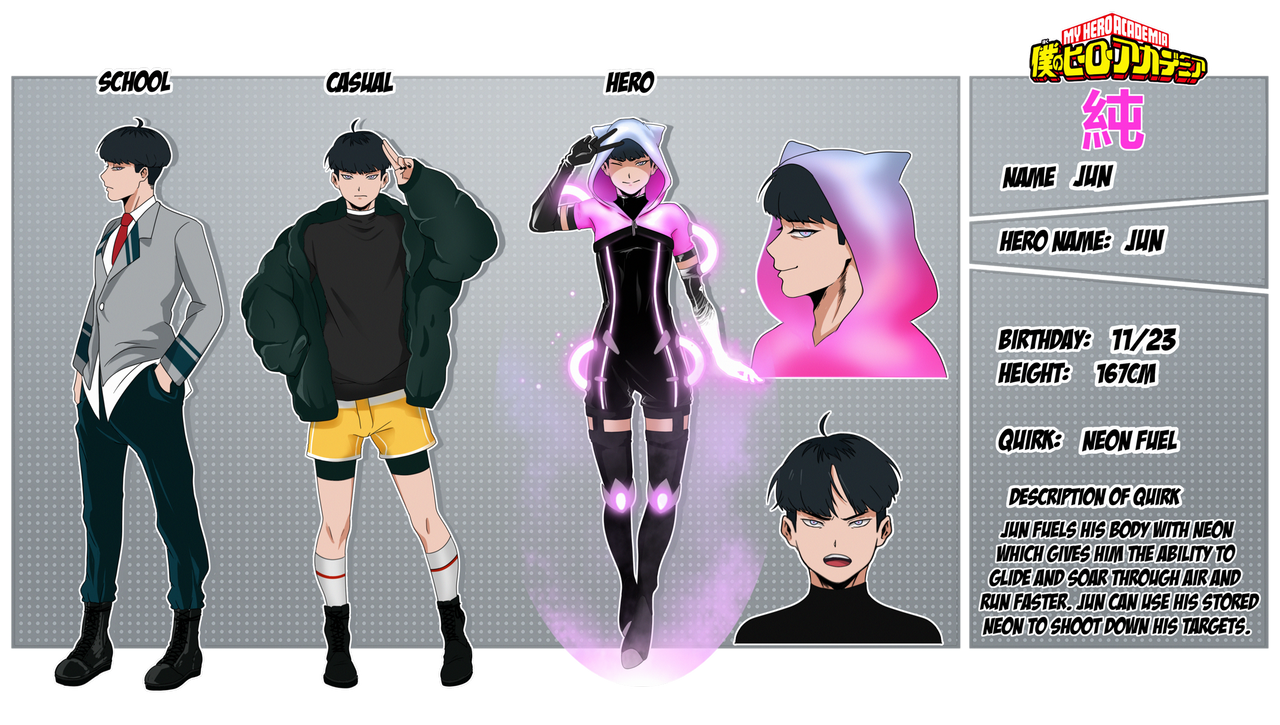 Watch
Personal Description
Name: Jun
Nickname: Jun, J
Age: 17
Date of Birth: 11/23
Gender: Male
Hero Name: Jun

Alias: Neon Boy
Occupation: U.A. High School
Background: Jun is a very mature yet immature young man, hes mature in the field of his profession and work but his personality is still quite immature. Jun was born to the family of well known pro heroes. After his 4th birthday his parents gave up on the idea of Jun possessing any type of quirk but his quirk started developing extremely late.

First developments of his quirk began when he was around 10 years old, his parents were ecstatic over the fact that his son developed such a strange and unique quirk, first time seen in both their families. But Jun wasn't so happy about it, sure it was fun to run and fly around but he didn't want it. He was enrolled by his parents to Aldera Junior High which should've made his path to U.A. Hero course much easier. But Jun didn't care for it, at 14 Jun recorded his first song which catapulted him to the tops of the charts and made him one of the youngest recording artist at the time. He finished Junior High but he didn't want to enroll in U.A. 'cus he wasn't interested in being a hero, he made a choice of becoming an Idol and hes following his goals. His parents were of course disappointed, even tho he didn't care about being a hero he still used his unique quirk in his music videos and interviews.

He was forced to take care of his quirk, he had to fuel himself daily to maintain healthy dosage of neon in his organism. But overusing his quirk in interviews and shows lead him to start losing control over it. He was fueling himself with neon daily, but that neon wasn't spent daily which lead to dangerous leaks and random explosions out of his hands, eyes, mouth and any other breaking points on his body. Since he cut ties with his family his management was responsible for him and his actions, they made a decision to enroll him to U.A. to help him learn control over his quirk.

Appearance
Hair Color: Dark blue/black
Eye Color: blue with hits of pink in the middle
Height: 167cm
Weight: 50kg
Build: Masculine skinny
Description: Jun has a dark hair and piercing light eyes, hes usually wearing a bowl cut, sometimes he pushes his bangs back with a headband. His fashion usually consists of puffer jackets, shorts and baggy shirts. He usually goes for all black with a pop of color.

Personality
Positive:
Generous | Kind | Helpful |
Intelligent
Negative:
Immature | Bratty|
Divisive
|
Egocentric
Neutral:
Cold |
Mysterious
| Quiet |
Likes: Music, acting, art, neon signs, futuristic aesthetics, people who act like they don't know who he is, night, money, shopping, cats
Dislikes: schedules, obligations, getting up early, doing things against his will, sun, dogs, working out, eating healthy
Hobbies: acting, singing, clubbing, shopping, exploring the limits of his quirk
Personality: He can be extremely caring or extremely rude it depends on the other person and how the other person acts around him. Jun is someone who keeps to himself, he doesn't reveal a lot about himself especially not to strangers. Even his management knows little to nothing about his personal life. Jun is a very self centered person and he would do anything and everything to prosper in his career and in life, he is very career driven and wants to be known around the world for his acting and singing. He never wanted to be a hero and he never wanted to go to U.A. He was devastated that he wasn't quirkless. He wants to become an Idol and his quirk so far has only been an obstacle to that.

Jun starred in many dramas, movies and TV shows. He got famous for his cold and sassy persona which he presents in interviews, talk shows or reality TV, he never cared too much about "Heroes" or the idea behind them. Sure he likes to help people but not in the way Heroes do. He doesn't want to be celebrated for his heroic deeds, he wants to be admired and celebrated for his art. His parents, both well known pro heroes were extremely excited when Jun got his quirk (which developed quite late) but Jun's goals were already set and he didn't want to change them.

After a
Quirk and Abilities
Quirk: Neon Fuel
Type: Emitter
Description: Jun fuels his body with neon which transfers into energy allowing him to glide through air, run faster than the average human, shoot its energy through his hands, eyes, mouth and harden it into small weapons which he can fight with (usually knives, pistols and throwing needles.)
+ Advantages:
- Air Gliding (Jun can glide through air by focusing a certain amount of neon energy into his arms)
- Neon Run - High mobility (Using his quirk to run leaves a glowing path behind Jun)
- Neon Tubes (Stores neon inside the tubes which are detachable from his body)
- Disadvantages:
- Recharge (Jun needs to recharge every day, if he doesn't his body turns weak and helpless)
- Neon Marks (Jun's Neon leaves a heavy glowing trace behind him which can be very tricky in certain situations)
- Leakage (Neon that leaves Jun's body on accident can cause high degree burns.)
- Temper Explosions (if Jun gets mad or irritated the neon can force itself out of his body making explosions beyond control)
Relationships
Family: Unknown
Friends: A few class acquaintances and that's it. (He rarely considers anyone a friend)
Love interest: Unknown
Trivia
Playlist: Anything thats top of the charts right now. (Probably his own music.)
Jun (純) Meaning "genuine/pure"

Even tho he loves clubbing and partying he would much rather be alone or in the studio.

He prefers night time cus there are much more Neon sighs and he can simply fuel himself in the city.

He hates eating healthy food but he still does it.

He fashioned his hero suit to change its color to the color of neon he fuels himself with.

He doesn't talk to his parents but he still keeps in touch with his siblings.

CREDITS:


Also BIG THANKS to

uunearthly

YET AGAIN for his gorg writing/visual template