I realllly LOVE ANIME! I also love drawing cartoons!!!
Current Residence: Arizona
Favourite genre of music: Hip hop
Favourite style of art: Anime
MP3 player of choice: I Pod touch
Shell of choice: Conch
Wallpaper of choice: Any thing from Xiaolin Showdown
Skin of choice: any kind
Favourite cartoon character: Kimico, Jack Spicer, Yin, Yang, Carl, Chi, Dudly Puppy, Kitty Katswell, Snaptrap, Ruby Gloom
Personal Quote: You can take the teen out of the kid, but you can't take the kid out of the teen.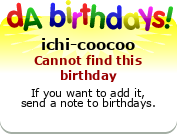 but to most people.
:iconpointcommissionsclosed:
Pencle sketches: 10 points
Inked sketches: 25 points
Colored sketches: 35 points
Comic pages: Penciled 40 Inked 45 Colored 50 points
Colored sketches, detailed and shaded: 65
:thumb85336878:





:thumb345756228::thumb344409928:



What Style Fits You?
Hosted By theOtaku.com:
Anime