Add Media: A Guide

---



So, a while ago, deviantART announced a
revamp on the comments feature
, which included the brand new feature "Add Media". Add Media was also announced for journals at an earlier date.
Add Media is fairly simple to use, but there are a few features that I wanted to point out in this article that not everyone might know of, from adding custom emoticons that the community makes, to adding sta.sh item thumbs directly into comments and journals. I will go over each section in this article.

Let us begin!

---

So, when writing a comment, you will see a button that says "+Add Media", click that, and a side panel should show up. If you are writing a journal, it should already be there.

---

Emoticons

---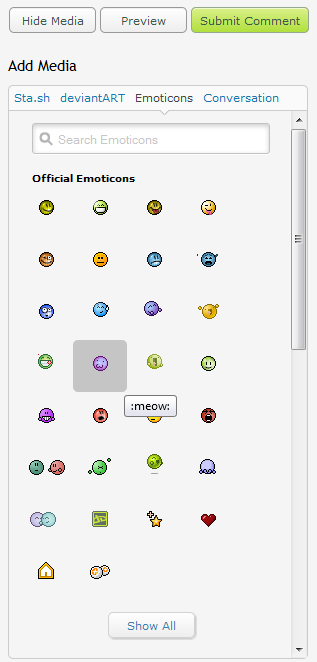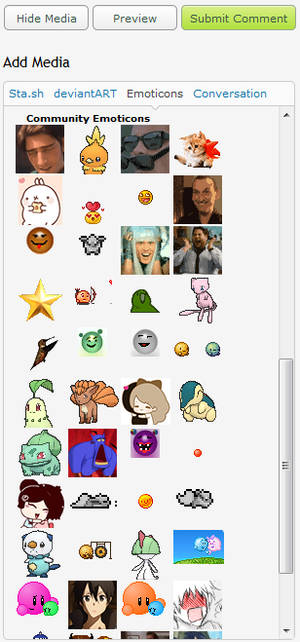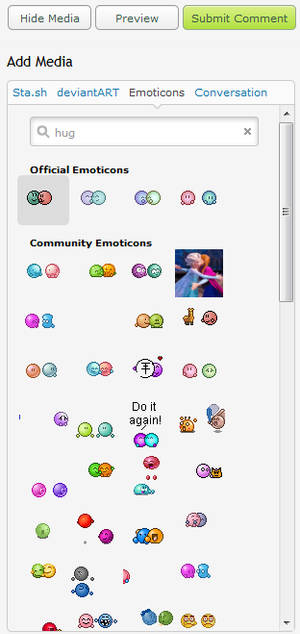 Let's start with the emoticons tab!
The emoticons tab should be the first you see when you open up Add Media. Both official, and community emoticons are displayed here. All you do is look at the front page, or search for an item, click the emote you want to use, and then it automatically gets added to your comment or journal!


Now, what if you want to add your own emoticon to Add Media?
All you need to do, is make an emoticon in a canvas size that has no more than
2500
pixels in total. So if you multiply the
height
and
width
of the canvas in pixels, as long as it comes up to 2500 or under, it will be fine (ie. 50x50, 25x75, 50x30, 20x20, etc.). Check out
Emotication
if you don't know how or want some tips on making emoticons.

You will then upload it like normal in the category
Customization> Emoticons> Chat Friendly> Small - up to 25x50
,
Medium - up to 50x50
or
Large - up to 150x150> Static
or
Animated.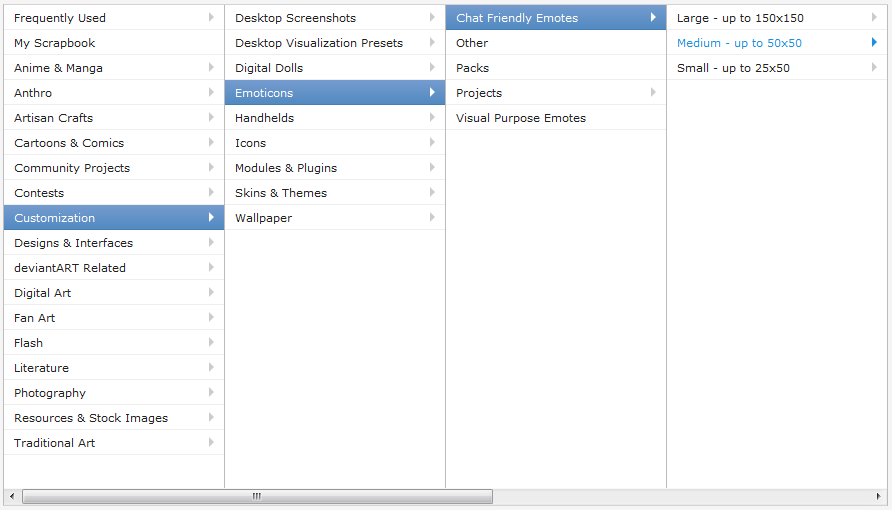 Then, after a few hours, your emote should show up when you search for it by name. Who knows, it could even end up on the front page of add media!

You will get notified every time your emote gets used in a comment or journal if you have the
mentions
feature turned on.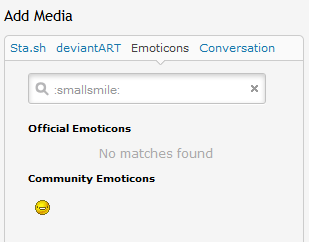 ---

Sta.sh*

---
What I'm using to put the screenshots in this article right now!

So now we have the Sta.sh part of add media!

To get here, simply click the Sta.sh tab in Add Media.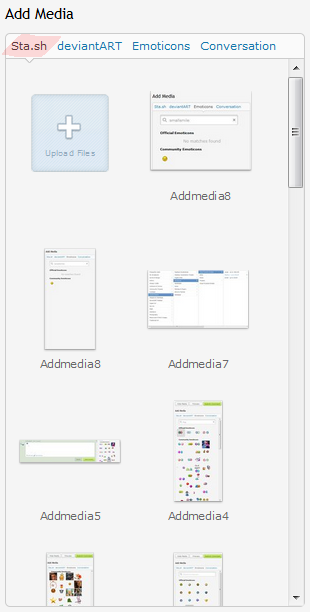 All you need to do, is load your desired file into your
Sta.sh
(or click that handy "Upload Files" button in the Add Media side panel), and it will then show up in the side panel, for you to add just by clicking on it, like it does for emoticons.

---

Conversation*

---



The conversation tab is a list of media items that were used in ether the comments, deviation description, or the journal itself, of the deviation. It is useful for if you want to thumb something someone else posted, and it is a sta.sh item that you would not otherwise be able to thumb, or if you don't want to, or have a hard time finding a thumb or emoticon that you see posted in the text or comments.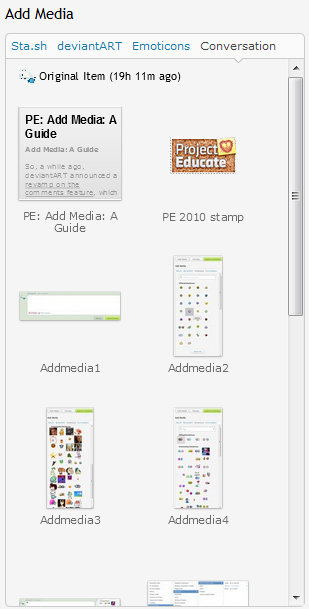 Again, to get the images in the comment, just click on them.

---

deviantART*

---



The deviantART tab is where you can find and insert deviations from deviantART!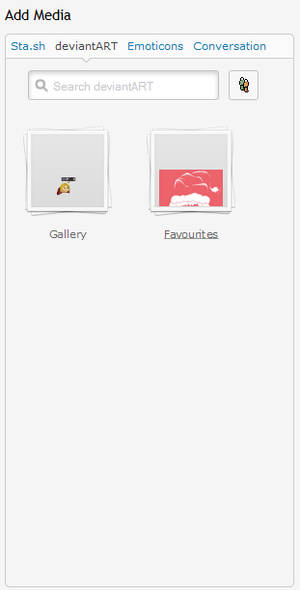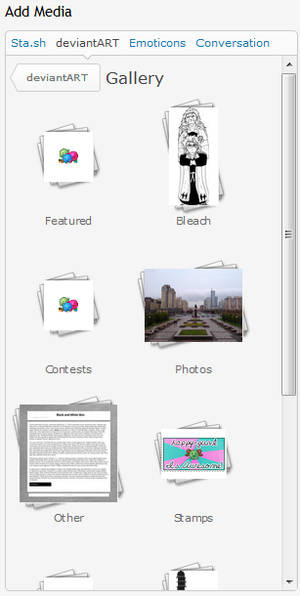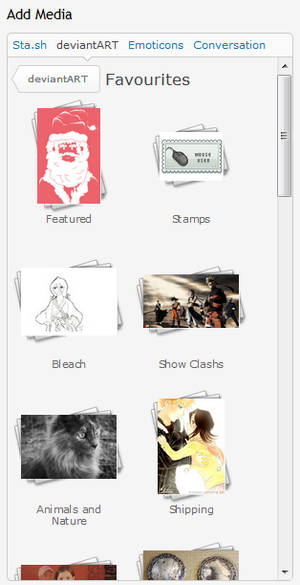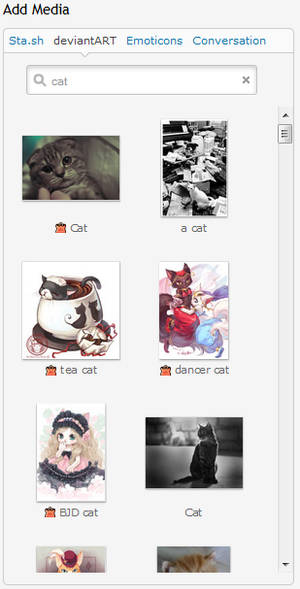 This tab is used to insert deviations in your comment or journal, that way you do not have to copy and paste the thumb code.

You can find stuff from your own gallery by clicking the "Gallery" folder, find stuff from your favorites by clicking the "Favorites" folder, or just type your own key word in the search bar.

You can also look for a specific user's art by typing
by:USERNAMEHERE
in the search bar. This also works for the normal deviantART deviation search bar as well.

---
And I think that wraps it up!

Should you have any questions, just ask in the comments below!

Have a great day!

*Premium Membership is required to use this section in comments. Though anybody, even if they don't have a Premium Membership, can use this section in journals.