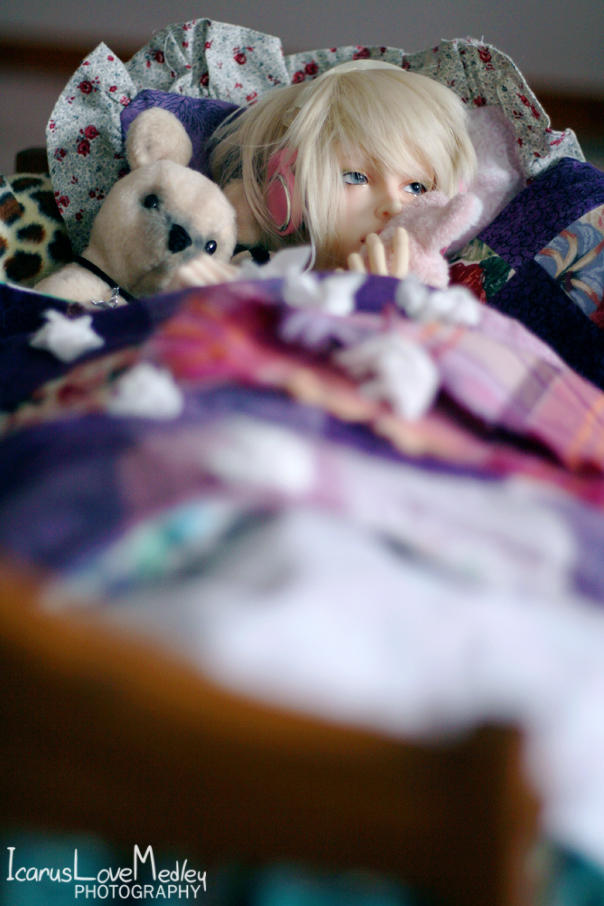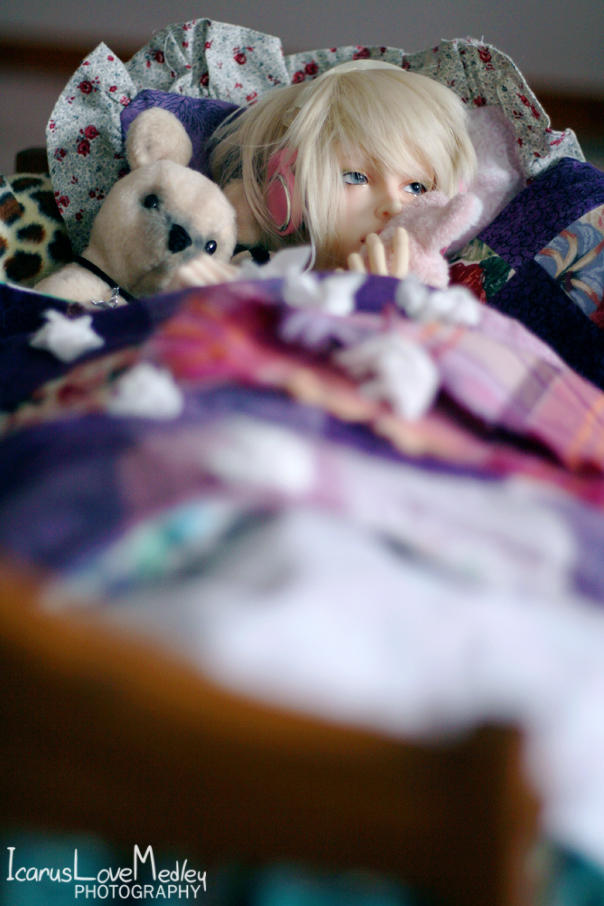 Watch
So for the past like.. week Iíve been sick as a dog. Just absolutely ill. Itís been awful. The worst part? I got sick on shower day and had to bump it till I was able to physically drag myself to the tub. It was bad. Iím finally starting to get over it and am celebrating by.. making Kade sick. HahaÖ Iím bad.

Kade, when ill, wants nothing more than to bury himself as deeply as possible in a blanket fort with his plushies and never, ever ever come out. Perhaps beg his roommate to make him soup-sneeze on said roommate when he comes in with the food-listen to him scream about cooties-perhaps get sat on by the dog and listen to Mika on repeat.

Plus tea. Lots and lots of tea.

Kade is an Iplehouse Jessica on a Popodoll body, faceup by me, blankets made for me when I was a toddler by my great grandma.

This is such a lovely photo, so realistic.
Reply

Thank you so much! always what I aim for, I find half the fun is trying to make them look like people at a glance.
Reply

Reply

Reply

aawww this is so cute! i wish you get well soon, take care and eat allot of Vitamine C

Reply

:'D Thank you so much!
Eating my weight in oranges, so yummy-and also good for illness <3
Reply

Oh, goodness. Poor Kade. Poor you! I hope you both feel better soon.
I love that Kade has his own bed. My tinies have beds, but not my MSDs or SDs. Though, considering I have another SD on the way, a bed would be an awesome thing to have for him... *strokes beard*
Reply

Haha I like to share my miseries with my little resin peoples. He gets his tiny Starbucks mug, I get my Tassimo tea. Makes me feel productive in illness XD

The bed was such a great find! My friends Cats10 and George16 picked up a more antique looking one at an actual antique shop, I found this one at a thrift shop, they seem to pop up every now and then :3 They're such great props, especially when piled with blankets.
Reply