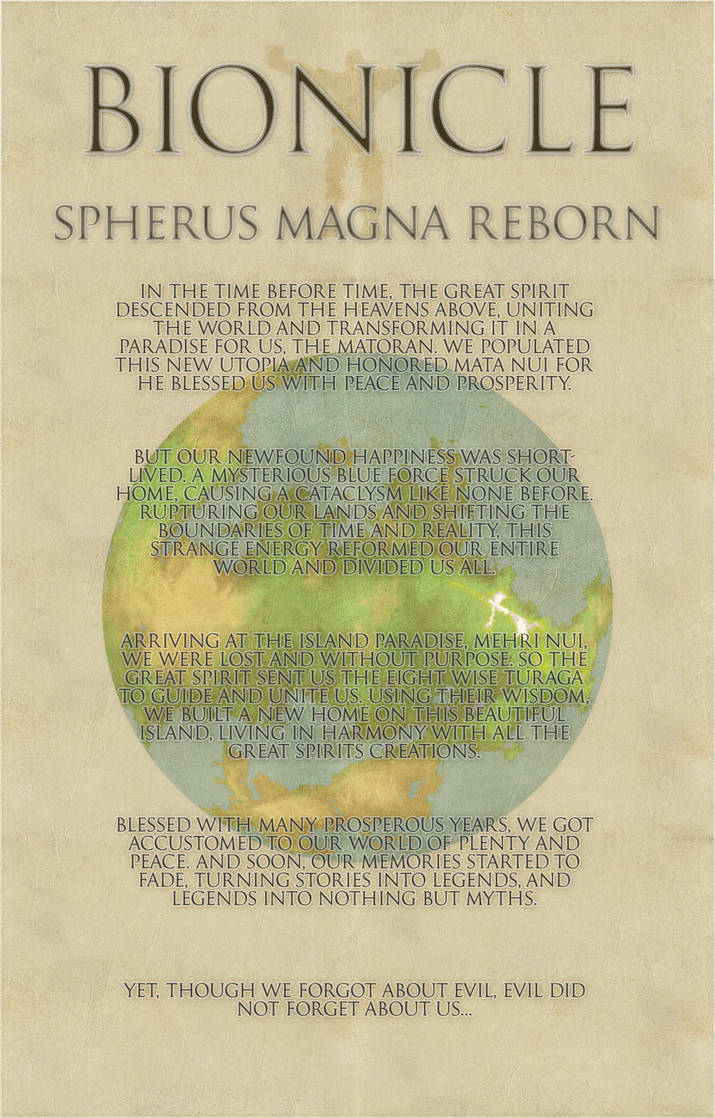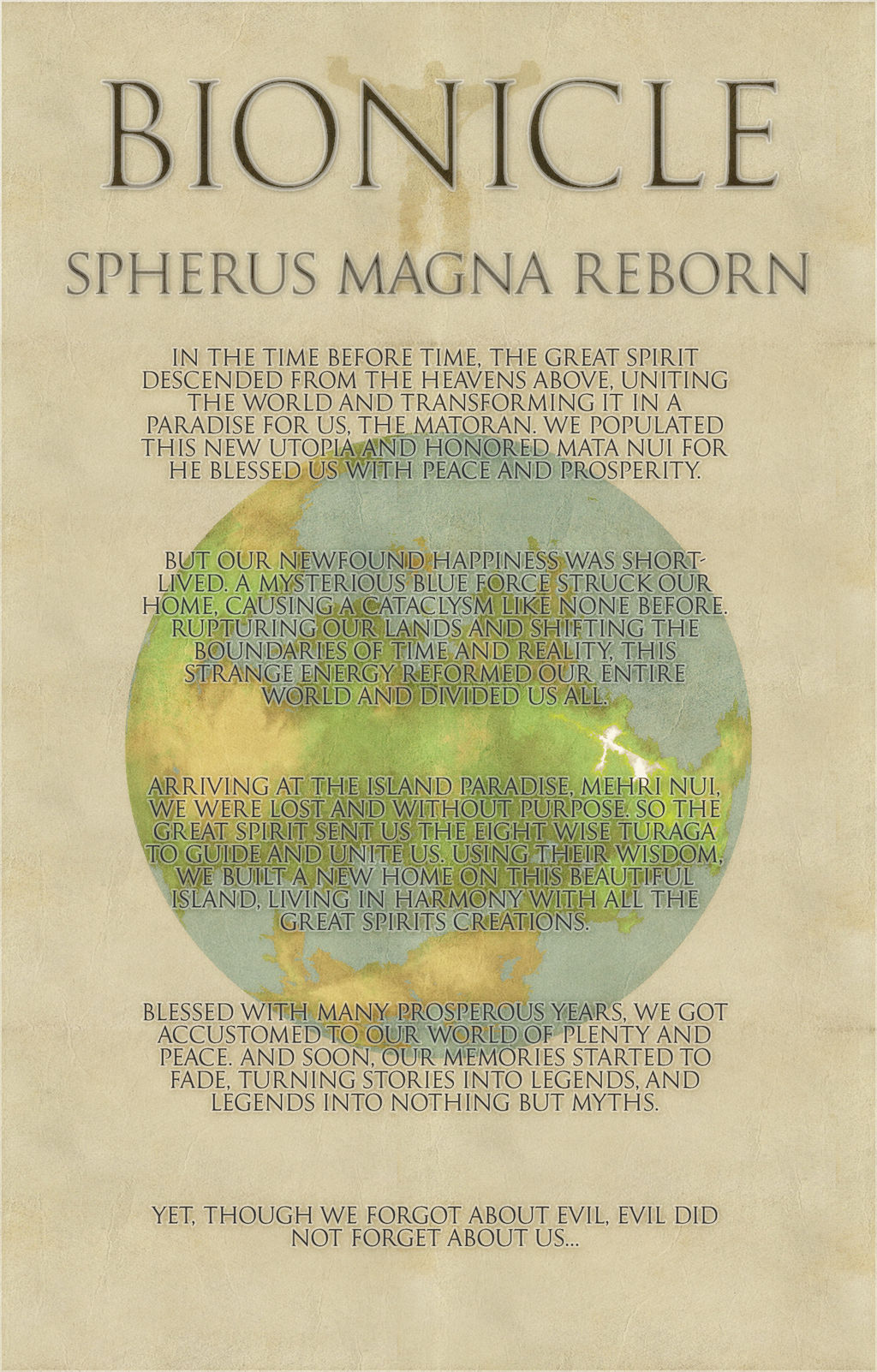 Watch
REMINDER : The Bionicle name, storyline elements and silhouette belong to the Lego Company, not to me. This storyline was influenced by Nova Orbis by NickinAmerica. Although his work did change a few of the original storyline elements, which he deserves full credit for, other parts were my own ideas from the start. This storyline was also influenced by the Multiverse Project by bonesiii. Full credit for those ideas goes to him and everyone else who works/ed on that project.
8 years in the making, this Bionicle fanfic is situated in an alternate universe where the newly formed planet Spherus Magna gets struck by a mysterious blue force, which instantly reshapes the planet's surface and spreads its inhabitants all over the globe. A large group of Matoran end up on a remote island and try to make the best of their new lives, with the help of 8 Turaga sent by Mata Nui. After thousands of years, the Matoran are settled on their island paradise and the memories of the past have faded into nothing but myths.
Our story begins 5 thousand years after the Second Great Cataclysm, when a new evil washes up on the shores of Mehri Nui.

Nice story! Is it going to be like a stop-motion, a comic, or what?
Reply

Probably more a combination of 3D environment shots and written story. I do make my own mocs for this storyline, but as school is killing me atm, I don't have much time to do more for this story. I hope to get back to it soon though !
Thanks for your comment !

Reply

Ooooh! *3* Is it gonna look like the movies?? 'Cause I've always loved the way the first three looked!
Reply

Somewhat the same indeed. Though this project will only take off once the summer holidays arrive, I currently still lack the time to work on my MOCS

Reply

Reply

Please tell me how did you come up with that? Advice anyone?
Reply

What do you mean ? The storyline or the artwork ?

Reply

Reply

Well, the storyline is something me and my younger brothers have been working on for several years, it's basically coming up with a central idea and slowly building your world and storyline towards it. I currently have 2-3 story arcs planned out, and all slowly progress towards the finale, which is the central idea behind the storyline. I think it's important to keep in mind that you have to build a world first, setting out the boundaries of your characters existence, before going deeper into the actual goal of your story.
The artwork was quite simple actually, it's just made in Gimp, nothing really professional

Reply

Bionicle > >>>>> Hero Factory
Reply

Haha true that

Although I did quite a lot of HF parts, the storyline was never as amazing as Bionicle's xD
Reply

Reply

Well me and my brothers bought a few of them to get some more parts, the building system is quite nice. I'm happy it's going to be used in the possible return of Bionicle in 2015
Reply

Wait what? Bionicle is returning?
Reply

Well yeah, there are rumors and a leak picture which shows several Matoran/Defenders/Whatever and the Toa Nuva/Mata fighting against small spiders.
www.youtube.com/watch?v=P2q0aX…
Reply