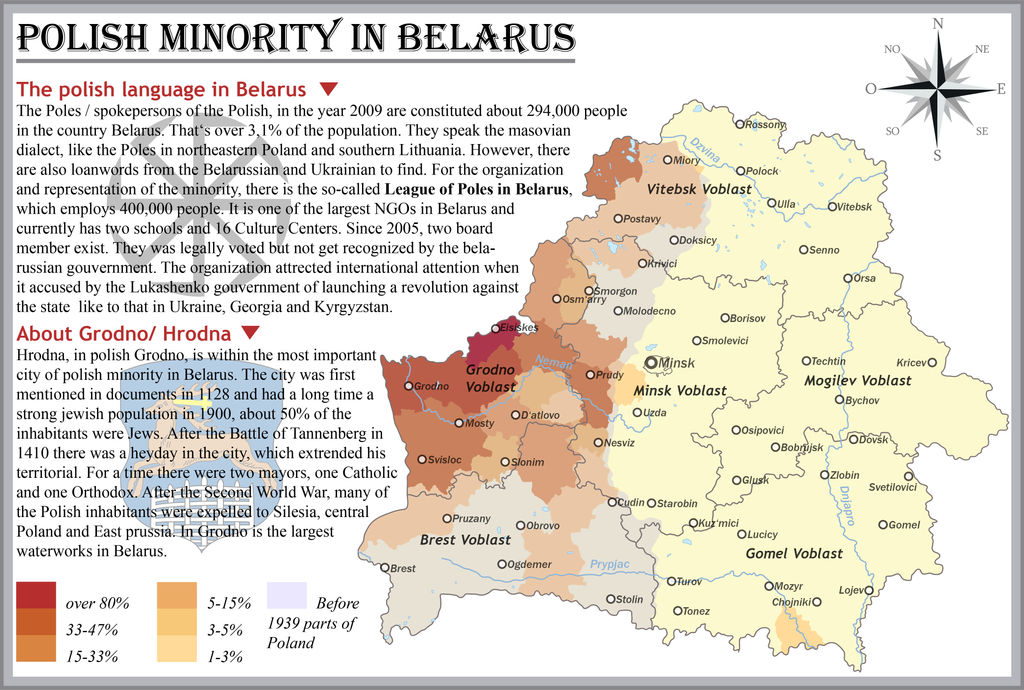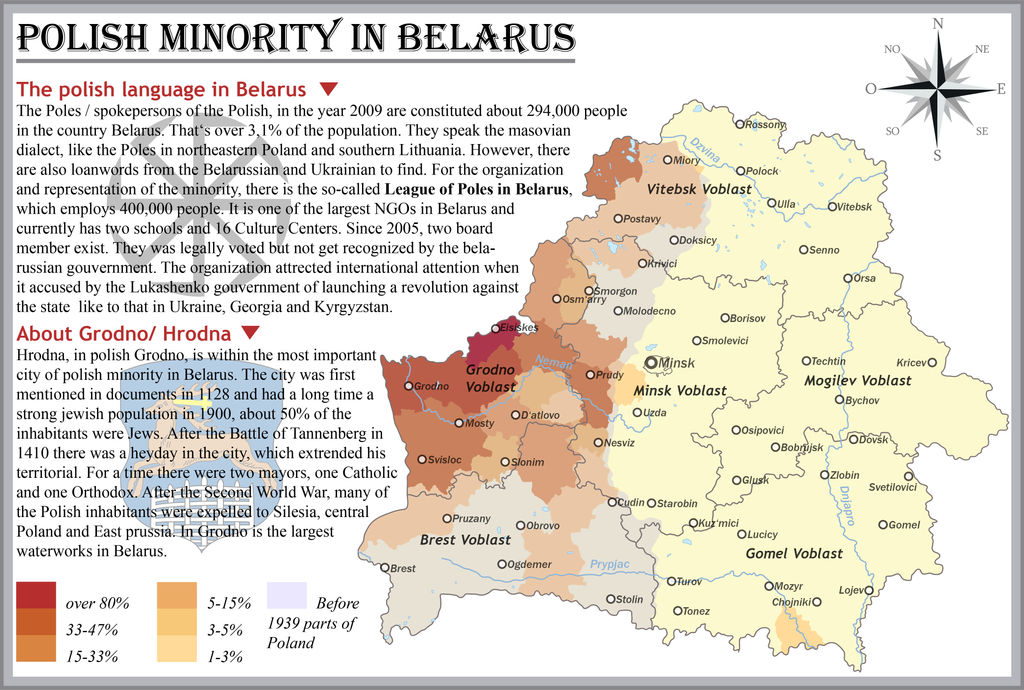 This time a simple ethnographic map with a wikipedia-like style.
Description:
The polish language in Belarus
The Poles / spokepersons of the Polish, in the year 2009 are constituted about 294,000 people
in the country Belarus. That's over 3,1% of the population. They speak the masovian
dialect, like the Poles in northeastern Poland and southern Lithuania. However, there
are also loanwords from the Belarussian and Ukrainian to find. For the organization
and representation of the minority, there is the so-called League of Poles in Belarus,
which employs 400,000 people. It is one of the largest NGOs in Belarus and
currently has two schools and 16 Culture Centers. Since 2005, two board
member exist. They was legally voted but not get recognized by the bela-
russian gouvernment. The organization attrected international attention when
it accused by the Lukashenko gouvernment of launching a revolution against
the state like to that in Ukraine, Georgia and Kyrgyzstan.
About Grodno/ Hrodna
Hrodna, in polish Grodno, is within the most important
city of polish minority in Belarus. The city was first
mentioned in documents in 1128 and had a long time a
strong jewish population in 1900, about 50% of the
inhabitants were Jews. After the Battle of Tannenberg in
1410 there was a heyday in the city, which extrended his
territorial. For a time there were two mayors, one Catholic
and one Orthodox. After the Second World War, many of
the Polish inhabitants were expelled to Silesia, central
Poland and East prussia. In Grodno is the largest
waterworks in Belarus.
Used Fonts:
Upper Text : Algerian
Description: Trebuchet MS
City names: Franklin Gothic Medium*
*same font for the River and Voblast names
Sources: