Ever since Saban bought Power Rangers back from Disney, Nickelodeon has been chosen as its broadcasting network. This may not sound bad to us fans, but from the company's point of view, this is a huge mistake. Unless Hasbro is somehow able to renew the contract, Beast Morphers will be the last season to air on this network. Thank God, because I can't imagine one of my favorite shows being with this network any longer. However, that doesn't mean I hate Nick. A lot of my favorite shows are Nick shows, like Spongebob Squarepants, Dora The Explorer, Blue's Clues, iCarly, Victorious, Drake & Josh. All of these shows were made by Nickelodeon itself and they're my favorites. On the other hand, PR had to be bought by Nick for broadcasting purposes, just like how Disney bought it from Saban after Time Force. The only difference being that Disney made seasons that were mostly good, with RPM being the best and Operation Overdrive being the worst. Nickelodeon made seasons that were mostly average, with Dino Charge currently being the best and Megaforce being the worst. I say "currently" because it's possible Beast Morphers could beat Dino Charge, making it the new contender for the best Nick season, but we'll have to wait and see. So, here are 6 reasons why Nickelodeon was a bad choice.
1) Super seasons: This idea may not sound bad on paper, but the problem is the execution. When PR was bought by Nickelodeon they had to follow some rules, one of the rules said that each season should be at least 20 episodes long. This resulted in seasons with 40 episodes or more being split into two with the second one having "super" in the name. Out of all of the Neo-Saban era, only 3 seasons understood this concept well and put it to good use: Super Samurai, Dino Supercharge, and Super Ninja Steel.
a) In the second half of
Samurai Sentai Shinkenger, we got introduced to the Inromaru, a small box able to read secret disks with the main purpose being to power up the Shinkenger. It can only be used by one ranger at a time, but that makes it similar to the Defender Vest and Dragon Shield, known as the Accel Tector and Dragon Armor in Japan. It also allows the rangers to use the Mogyuu Bazooka, a weapon based on Ushi Origami. Very similar to how the Accel Tector/Defender Vest equipped its user with the Dual Crusher, called "Drill Blaster" in Overdrive. When this item was adapted for the rest of the world, it became the Black Box from Super Samurai. Whereas the Mogyuu Bazooka turned into the Bullzooka.

b) The second half of Zyuden Sentai Kyoryuger gave us the Gabutyra De Carnival, a chibi version of Gabutyra that allowed his partner KyroyuRed to power up into a battlizer-like Carnival form and use Kyoryujin's arm attachments. Battlizers are mostly an American concept hence why their scenes were created using original footage. However, there have been cases of battlizers being used in Sentai footage. Like how Murphy K9 could power up DekaRed in a similar way, with the animal parts becoming armor. Minityra could also turn into a gun and be used as a weapon. When this was adapted, we got the T-Rex Supercharge Zord. A miniature version of the T-Rex Zord that allows Tyler to power up and use the arm attachments of the Dino Charge Megazord, once again, Rexy can still turn into a gun and be used as a weapon.
c) While the Chozetsu Shobu Changer was the power-up item for Ninninger, Ninja Steel turned it into more of a battlizer for the team. That's why we have the Ninja Super Steel, a stronger material than the Ninja Steel from the previous season. In fact, it's so powerful that multiple power stars can be forged from a single piece. It also granted the rangers with the Ninja Super Steel Blaster, a lion-based gun weapon used for Megazord finishers.
d) The only season that didn't understand this concept well was Super Megaforce, and I'm just gonna go ahead and say it. The Gokaiger suits are too different from the Goseiger to be considered as the same set of powers. I know that the Power Rangers have switched suits before, more specifically in the Zordon era, but each suit looked distinct enough so that I could see them as different sets of powers. That's why Forever Red makes sense, all 10 rangers are wearing the same color, but the suit designs are different enough to make us believe the rangers have different powers which causes the morphing grid to remain normal. I know there are times where they instantly morph to Super Mega Mode, but that's just an alternative method. If you don't understand what I mean, allow me to compare the suits.
Notice that the core 5 Goseiger suits share 2 colors, white and gold, both of which represent the angel theme pretty well. Whereas the Gokaiger suits have a pirate theme which does match with the black and gold they share. This means the only color both suits share is the gold, everything else is different. This would imply that they should've been separated from each other, but for whatever reason, it was decided for them to be the same powers.
2) Not getting away with character deaths: I don't just mean characters being killed onscreen. When I made my rant about the stupidly unnecessary Last Jedi remake, I said that most stories with children as the protagonists kill the parents so that the audience can relate to the main character. After all, everyone has flaws and the character must express those flaws in order to connect with the audience. Two orphan rangers that majority of the fanbase likes are Cole Evans from Wild Force and Schuyler "Sky" Tate from Space Patrol Delta.
At the very beginning of Wild Force in the episode Lionheart, we saw that Cole wanted to know what happened to his parents. As the show went on, we realized that the second Master Org killed Richard and Elizabeth Evans. This gives Cole a great motive to become the Red Lion Ranger. Not only did he save tons of people from the orgs, but also managed to defeat Dr. Viktor Adler with help from the other rangers.
In the premiere episode of SPD Beginnings part I, we learn that Sky wanted to be the Red Ranger like his father, who was the best of the best of rangers. While he unfortunately started off as a blue ranger, when it was time to face Mirloc, Jack gives Sky his morpher so that he could face officer Tate's killer as a red ranger. Not to mention that in Endings part II, Sky gets promoted to the rank of SPD Red while Jack retires. Making his dad proud so that he could finally rest in peace.
This makes both rangers very similar to Batman, mostly because the motives are pratically identical. The only difference is that Bruce never fought Joe Chill, nor arrested him for the murder of his parents. Cole and Sky on the other hand were able to face the killers head on, and destroy them for good. I know it's bad to lose your parents, but one of the best things in life is becoming a parent yourself. After all, legacies should be continued. Granted, there are movies, TV shows and cartoons which could be considered far too dark for kids, but the truth is that they can watch anything as long as it leads to a happy ending. After all, ending a story with a "happily ever after" always satisfies the audience.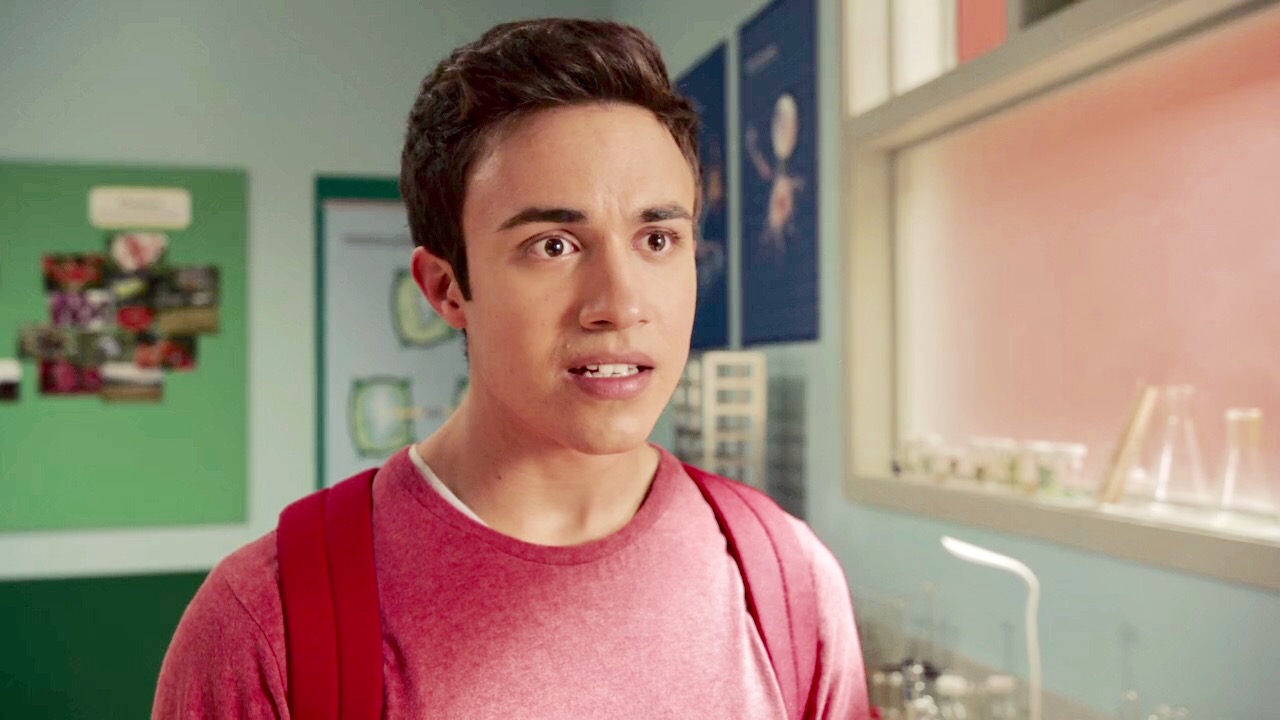 It seems like Brody and Tyler were originally scripted to have their fathers get killed by the villains from the start, but Nickelodeon hated the idea, forcing Chip Lynn to rewrite the story in a way that kept James and Dane alive. Despite that change in script, Tyler is still the most relatable of the two, due to his fathers disappearance at the beginning of Dino Charge. Whereas for Brody, he never really made a connection with the audience due to how poorly written he is. I know the writing staff did their best in order to make him relatable, but he's just as bland as a loaf of bread. While he did make some friends and eventually found his long lost elder brother Aiden, there's just so much missed potential with him that it feels like he needed more stuff to do. Interacting and bonding with the other rangers, reuniting with his brother, etc. They should've put more time and effort into making him a relatable character, but since we can't change the past, we must prevent this mistake from ever happening again.
3) Disregarding the continuity: When Disney bought the Power Rangers from Saban, they were originally planning to do reruns since they hated the show. This is what resulted in the remastered version of Mighty Morphin season 1, there's a possibilty that Nickelodeon also hated PR. However, instead of reruns they decided to retcon the show by destroying anything related to Disney era. This is why we got the dinosaur zoo, it serves as the middle finger for one of my favorite seasons, Dino Thunder. In Day of the Dino part II, we learn that the dino gems came from a meteorite that killed the dinosaur population millions of years ago. In Powers From the Past we see that Sledge's ship has tons of asteroids, one of which could be the aforementioned meteorite. However, in End of Extinction we see that same ship being thrown into the sun. Therefore, causing him to die in the past and get erased from existance. This is impossible! Think about it. If Metal Gear Solid 3 taught us anything, is that changing the past not only changes the future, but also creates a time paradox in the universe itself. Meaning that if Sledge did die in the past, than the Dino Thunder Rangers wouldn't exist. Another instance where the continuity is disregarded happened in episode 20 of Ninja Steel, when the three red rangers fight Galvanax. You may not have realized it earlier, but there's an uncategorized fourth rule in Zordon's Ranger Rulebook. Too much energy of a certain color is dangerous. In the beginning, fans just saw this as a funny line quoted by the soon-to-be god of Power Rangers. However, Mesogog's henchwoman Elsa confirms it as true during her conversation with the White Ranger Clone. Basically, if two people are sharing the same colors, right down to wearing the exact same costume, then they share an identical set of ranger powers and thus cannot exist in the same place and time. I know the sashes are different, but since they're connected to Brody's star, all 3 rangers share the same powers. All I can say is: Welcome to the mindfuck ladies and gentlemen.
4) Too much Sentai footage: Ever since Jonathan Tzachor became excecutive producer, he wanted the show to be a lot more similar to its Japanese counterpart. This resulted in both Samurai and Super Samurai being a watered-down translation of Shinkenger, but also led to the atrocity that is Super Megaforce. In fact, it's even so bad that some people don't consider it as the francise's 20th anniversary season. Anyways, when fans heard about the 20th anniversary they were very excited to see every ranger fight against evil together with the most recent team at that time. However, with hype comes disappointment, and thus the fandom was very angry with Megaforce as a whole. They should've spent more time in developing the current team of rangers instead of burning as much Sentai footage as possible, but the biggest problem is that there already is a good version of the legend war. I highly recommend that you read
Dakari-King-Mykan
's Power Rangers Revolution, the finale is basically The Legendary Battle done right. In fact, I'll even put a link in the description so that you can have something else to do besides whining and complaining about how bad Power Rangers Ultimatum or Power Rangers Countdown to Final Crisis is.
5) Turning the show into a sitcom: Power Rangers can have some comic relief moments, but that's not what the show is about. Like Super Sentai, PR is primarily an action show. That explains the abundance of fight scenes. Nickelodeon isn't the master when it comes to making an action show, I think the closest they got were Danny Phantom and Fairly Oddparents, both of which had lots of fight scenes, but not enough violence. Usually, the shows Nick makes are either sitcoms (iCarly, Victorious, Sam & Cat, Drake & Josh) or cartoons (Spongebob, Doug, Hey Arnold!, Rugrats). There are some exceptions, but this is the general formula. However, there's nothing more absurd than adding cartoon physics to try making the show funny. I know that Power Rangers is a show targeted at kids, but it never intended to make us laugh. That's a comedy's job, the slapstick and absurd lack of physics are there to make us laugh at the misery the characters are experiencing. Power Rangers could be on par with other superhero shows like Batman: The Animated Series, Superman: The Animated Series, and Teen Titans. The onscreen transformations (morphing sequences) also put it on par with magical girl animes like Sailor Moon, Pretty Cure, and Mermaid Melody. So with PR being a Tokusatsu show, I consider it as a mix of both. However, when it came to Ninja Steel, Nick decided to throw away the action and replaced it with more comedy as an attempt to make the show more kid-friendly. Of course, this idea didn't work and they fa The purpose of superhero shows is to teach us about fighting to save the world from evil and do the right thing for the greater good. The audience's reaction to seeing superheroes fight bad guys is to cheer them on, rooting for their victory. This shows the heroes that we're on their side, hoping for the earth to be safe after the villain is gone. However, when the action is replaced with more comedy, it causes the audience to laugh at the heroes and side with the villain. This is not what should happen. If you want somebody to laugh at, then do it at the villain. At least they know the cause to their misery. The reason why the previous two eras were much better is because they both knew how to take dark stuff seriously and taught good lessons to the kids, this gave the audience a reason to buy the toys. When Nickelodeon took away the action, the show became a cashgrab it was never meant to be. Maybe Japanime was right about the writers being the problem, perhaps some of them were only good at writing comedies. If that's the case, then Hasbro should do something with the writing staff so that they can succeed. I know this would lead to a studio intervention, but if at first you don't succeed, try try again.
6) Not making the rangers the main focus: Usually when it comes to naming TV shows, audiences need to know who the protagonist is. Most of the time, there's a clue in the title to help us figure out who it is. Hey Arnold! stars a boy named Arnold, iCarly is about a web series made by a teenage girl called Carly, and so on. When we watch Power Rangers, we expect the rangers themselves to be the main focus. However, there have been 2 instances where they weren't the focus. The first one was in Power Rangers Countdown, and the second one was in Ninja Steel.
When we got introduced to the Legendary Morpher, we learnt that the Super Mega Rangers were able use the powers of past ranger teams. Which was fine, but the problem is that some of the legendary modes are from seasons that weren't adapted. Basically every season that came before Zyuranger had a suit in the show. Some of those suits were edited out though, causing 13 suits to remain unchanged.
Dairanger could just be Gosei's attempt to harness the power of thunder and create suits for his rangers to use it. After all, most of footage for MMPR2 was provided by Dairanger, including the Thunderzord fights. Because they had to burn up as much Sentai footage as possible, they turned a very anticipated anniversary season into a disaster. The reason being the lack of character development, with Troy being the worst and most robotic of the bunch. I don't want to call Saban cheap, but he's running out of ideas. Relying too much on MMPR is a hinders the franchise a lot, I know that the first season was very nostalgic considering that it started the Zordon Era and Go Go Power Rangers was a staple due to how catchy is. However, much like Frozen's "Let it go", playing it once is enough since it becomes annoying when played repeatedly. This is why I wanted them to try remixing a theme song that didn't belong to Power Rangers, like the opening of TMNT being chosen as the Ninja Steel Opening. The producers may not have listened to me, but if the writers want us to enjoy the show like we did in the past, then the studio shouldn't destroy their vision. After all, writers are artists, much like directors. That's why it's forbidden to touch paintings in an art museum. The original creator wanted a masterpiece that was intact, meaning no fingerprints. Finger-painting may still be a thing, but if you wanna get dirty, don't ruin somebody else's work. I know I got a bit off-topic, but if you only focus on the anniversary, the story won't advance.
Victor Vincent and Monty Boa are Ninja Steel's attempt at bring back the comic relief duo used in some of the previous seasons. Most fans of the show remember how funny Bulk and Skull's comedic antics were, other people may realize how similar they are to Cassidy and Devin from Dino Thunder, at least in terms of personality. Once again, I would consider Victor as a fusion of Farkas Bulkmeier and Cassidy Cordell, whereas Monty combines both aspects from Eugene Skullovitch and Devin Del Valle. However, they fail at being funny. The previous four were funny beacuse they were trying to only annoy the rangers, I know Bulk and Skull have failed more, but at least they tried. Every other Power Rangers season had to follow a formula, the formula itself has six steps.
Step I: Monster invades the city and scares away inhabitants.
Step II: Comic relief characters also get scared by the monster and run away.
Step III: Rangers morph and defeat the monster, winning the first round.
Step IV: Monster gets revived and grows to giant-size, forcing the rangers to summon the zords.
Step V: Monster gets defeated by the megazord and the city is saved by the rangers.
Step VI: Comic relief tries to annoy the rangers, but failes miserably.
With Ninja Steel, Nickelodeon decides throw the formula out the window and make Victor and Monty the focus instead of the rangers, I know that Linkara said that Bulk and Skull were the real stars of the show, but I think he was just joking. After all, if they really were the stars of the show, the title would be quite different. In fact, I'd love to improve Ninja Steel's title so tell me your ideas in the comments.
Due to Beast Morphers premiering in March 2nd, fans are very excited to see if it'll be better than Dino Charge. However, there is something we can do in the meantime, read the Boom Studios Power Rangers Comics. If Japanime recommends them, so should I. Hell, I even joked by saying that Boom's using the comics as a way to get enough money to buy the show. They're probably trying to bring balance to the fandom much like Let's Go Pikachu and Eevee, and I'm fine with that. Besides, I don't know how much money Boom made from selling the comics, so I don't really care if they wanna buy the show or not. Since Hasbro also makes toys for Marvel, this would be very unlikely. Anyways, are you guys excited for Beast Morphers? Are you gonna buy the toys? Let me know in the comments. Hopefully Saban and Bandai of America will learn a thing or two.