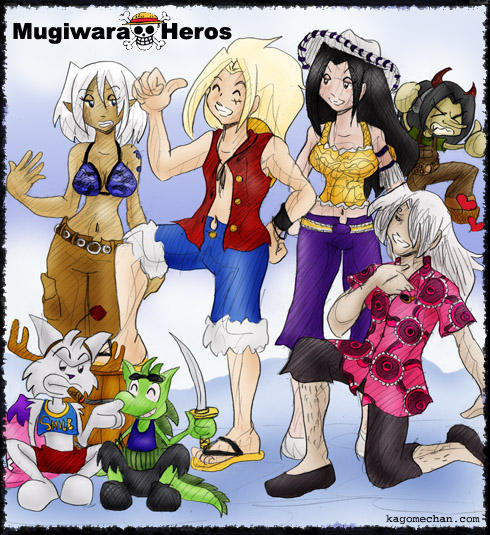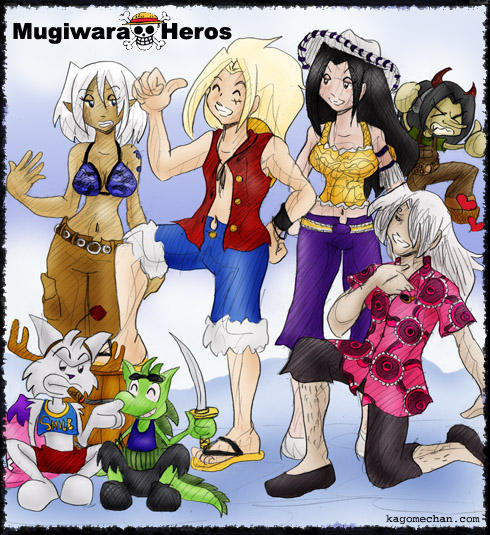 Watch
This is my submisson for the current art competition at
Agh why did I do a drawing with 7 people. o_0 Crazy monkey I am.
Well, for the contest you had to draw an RPG world character as your fave anime/manga/game character. I almost went with Final Fantasy, but I realized that was a bit to redundent. So I picked my fave pirates from One Piece, Skypia version! XD Stupid Sanji shirt.. ::shakes fist::
Hero as Luffy, Cherry as Nami, Dragobo as Zoro, Rabble as Usopp, Erike as Sanji, Howard as Chopper and Diane as Robin.
Cherry's all like "Why do I have to wear the bikini?"
Hero: I CAN streach like RUBBER!! WOOO! New ablity!
Diane: You're just mad that I'm rocking this hat.
Erike: YEEEEES I get the ladies!!
Rabble: YEARGH! I'm the dancer I should be Sanji!
Howard: Why am I stuck with the Reindeer and you get to be the Swordsman.
Dragobo:

;
No love for Reka because I ran out of room. o_0