Nice Holiday, happy Christmas and a merry new year... or different around... to all of you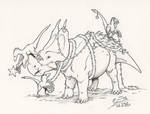 2013 is coming and we are still here, there is even no new era in sight, not in politics or economy... but maybe in Paleoart/Paleontography.
Welcome at the edge of the "Paulianium".
When you see "Dinosaur Art" as a retrospective and end of the paulian age "All Yesterdays" the book, which seems to announce a paradigm change in the Paleoworld, open a new calender for us. The book is smaller than I thought but this doesn't diminish the massage of this fascinating piece of literature.
I will not go deep into it because so many have allready written (very well) about it and I think it's better to read the book yourself.
All in all we can say that All Yesterdays gives us, the Paleoartists, the grounds to work much more free and creative, but in the same time exhort us to stay accurat, to make our homework. Asher Elbein
ashere.deviantart.com/
descriped at "Love in the time of Chasmosaurus" very aptly what happens when you read All Yesterdays: "Over all, I found finishing All Yesterdays to be deeply frustrating, because it left me with an almost dizzying sense of possibility. I didn't want it to be over. I wanted more of a look into a world who's strangeness I'd taken for granted. So I did the only thing I could--I picked up a pencil..."
And that's exactly what happens to me too. some really intersting concepts come into my mind, inspired by the huge room All Yesterdays opend.
Things like fishing primitive Therizinosaurs, giant bulky, bachelor groups of Crylophosaurs, colorful Hadrosaurs or peeing Ceratopsians circle through my brain and scream, "DRAW ME".
And it's difficult to ignore them, even so short before the next Rundgang exhibtion.
Edit: Hier noch ein link für die deutschen Mitglieder:
bestiarium.kryptozoologie.net/
eine Seite die ich wärmstens empfehlen kann wenn man nach einer art deutschen Version von Tetrapod Zoology sucht. Paläotologie, Zoologie, Kryptozoologie und so weiter. Aktuell geht es um ausgestorbene Wale und wer noch nie von den Remingtonocetidae gehört hat sollte mal reingucken

Have a nice day.
All the best,
Hyrotrioskjan

(This journal may become longer because there are still things I want to write about but can't remeber at the moment)