I forgot to mention, if you liked the recent Valkyrie Squad set with the Marionette Master, I have a short set of renders for sale with a similar theme, and exposed female body parts. (Not the Squad, their stuff will remain PG rated for now at least..) That and a couple of other things are available over on the Mall of Erotica, for $5.
Or, you can pay me $5 directly via PayPal (hypnovoyer@hotmail.com), and I'll get a .zip file to you one way or another.
Sample: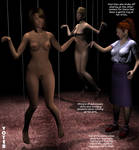 EDIT: Should have said, there are 21 .png images in the set, and no text or dialogue. And if PayPal isn't an option, or refuses to cooperate, I'll also take a month of Core membership here on DA (again $5) or $5 dollars worth of store credit over at DAZ 3D, where I can buy some more props and such. (
www.daz3d.com/gift-card
) using again the hotmail.com address.