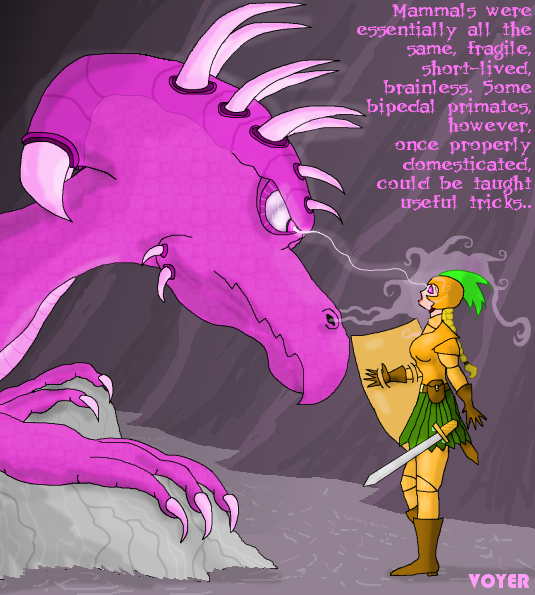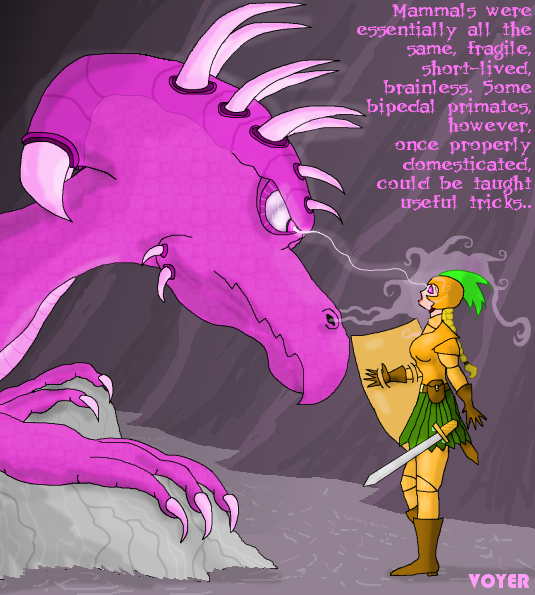 Watch
A reworked and enhanced pic originally from 2007; it was requested I repost this, and I believe it was a request piece in the first place.

Okay, let me take a crack at this. (Checks Elder Scrolls wiki...clears throat...)

AAR MIR VAHDIN!!!
Reply

So, pink dragons have mind control gaze, and transformation breath, (or TF gaze and MC breath). That's a lot more fun than red dragon's fire breath or white dragon's ice, why weren't pinks in the Monster Manual when I played D&D?

Reply

I was aiming more for "Purple" than "Pink", but essentially yes.
Reply

Hah, maybe magenta? I don't know, I'm terrible at naming colors outside of red, blue, yellow etc, properly. But I have it on good authority, (ie; a female) that purple is heavily into the blue as much as the red. Regardless, the color you've used is very good for MC; decadent, outre, playfully sensual.

I take it you're planning to brush up and release part 2 later? Hopefully you will release more of your older stuff over time, it would be a shame for it not to be. I can't make many more requests because I can only clearly rememberl a few of them from that time.

One other work of yours I'd like to request is a halloween one, I think it was '05. A demon controlling a demoness holding a jack o'lantern, I'm not sure if she was transformed into a demoness or had been a demoness before being whammied.

Anyway, thanks again for posting "Dragon", I'm glad to see from responses that others like it too.
Reply

I might re-post the demon one when Halloween rolls around. I won't ever post all of my stuff online, at least not for free, but I will continue to put up the ones that I still like.
Reply

Hm, we got a smart dragon here I see.
Reply

This just goes to show that we should not oppose our dragon masters
Reply

Reply

I actually prefer this style much more to your more recent works ("Meeting of the minds" being an exception) as I think your work looks better with the linework around the edges. I don't know what brush you use without the lines, but it's almost like it's got airbrush edges, which detracts from it.
Really nice work and nice caption

Reply

What you see of my stuff on DeviantART is not chronologically arranged; most of my recent pics posted on my personal webpage (www.hvoyer.com) have been done "with lines", not particularly for artistic reasons but because it's a lot faster.

Reply

May I ask what program you use to do your artwork? Is it all done in MSPaint? Or are there sketches and coloured in on computer?
Reply

Most of them are done entirely on my computer using Paint Shop Pro, which is sort of halfway between MSPaint and Photoshop, in terms of features and cost. A few start as pen and ink drawings that get scanned in and heavily modified.
Reply

Hey, this is my kind of dragon! ;D
Reply