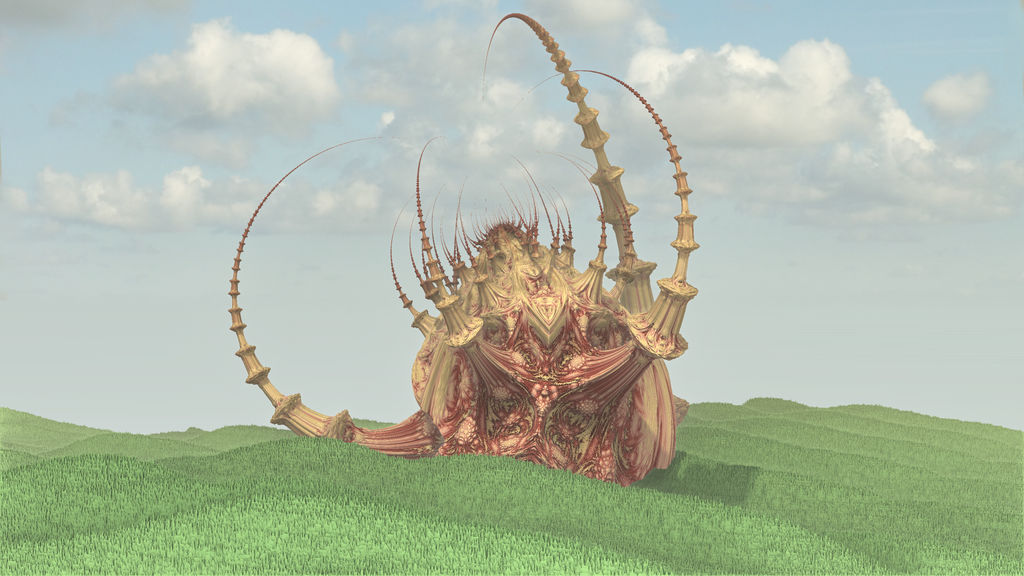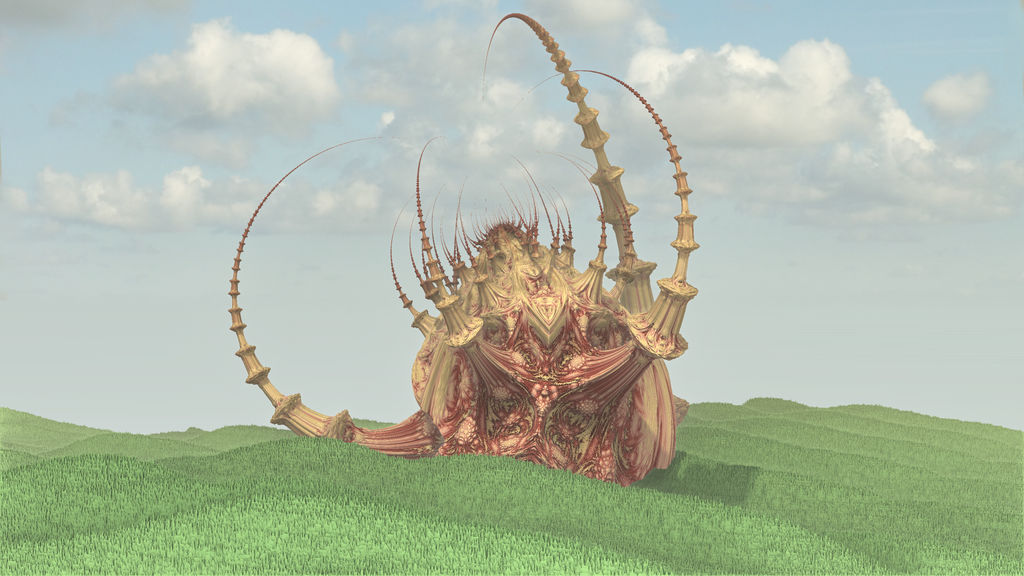 Mandelbulb 3D. DEcombinate: HeightMapIFS + _DEComb_ISph_Plane + _CondLyapunovEx + _SinApprox + MsltoeSym3 + _SinePow2

Experimental work with _CondLyapunovEx.


Mandelbulb3Dv18{
g......1...k4.../....26...UZyH9uQur7.XFjttq6Lm0EdVuBeOlavzHTgSQilaO/.bRyGQV4WFzD
................................DkJGqNX1GzXcLsaHS64e./..........nAnAnAnAn.2...wD
...Uz6....kJ/.../Q.1/....2UT2..../....k4.....QkY87R1hEqD/Q....sD...m/F8Xsa1.Vs8T
yEEnAnQD12..12UaNaNaNaNszeNaNaNaNawDnAnAnAnAny9...........U5.....y1...sD...../..
.z1...sDCgQj/W7zXxXG4F2n0KONzmNGBlRQtmrjANtN2l4VyxXATyPG6PkKzwmbF5/SY.qDyXsR9xeQ
8xHQ1TP2lQOTzaXX4C3YZWqDU.....I3X...1k........sD.6....sD..G.....................
.............oAnAt1...sD....zw1.......................................sDK....M/.
.....Ksulz1.......kz.wzzzX.r.c4.C....k/...kC....m....U5...k.....7/...k2.....SXj9
...U.8ipLyTjhqtzWPxZzrPfR06.3c..zXCc..kvrEtMc7xD6ocyFE0ujzH..........2.28.kFrA0.
.Ub96aAIVz9.1se7Umvxz0........../EU0.wzzz1...........s/...................E.2c..
zzzz.............0...................2./8.kzzzD...........k6....................
/EU0.wzzz1...................................gcnH0.U.0cvYS0U.....06UbHIBK1fe..6U
.uygxgRoZ0.U.0cvW63U./2..06US9hT.1Ak..6U.uy2z/Ak.1.U.0cvEx5k.1A..06UirsT.1Ak..6U
.uinz/Ak.1.U.0cv..EsUa3feeWCNqGQIJ36wk8EwyLsUa3fk.1NrsWOkR4.....................
E6...M..F7E.....I....s.....GZZqNcFLHV/LG4B3..........................6E./2E./2U/
4MU.02E...........pY.BnAnAnAnA/EmAnAnAnAXzXlAnAnAnw6.nGNN6CKLQuDe4joB742Ez1aNaNa
NaN6.1.................eG/A.......I9.1..................kz1...................zD
.....................2.....3....5....w3F3BoPh7qL7B3Qcx3Ig3aPZ/..................
.....................YNaNaNaNSzDOaNaNaNa7z1..........UPaNaNaNazD................
................................................................................
................................/....E/...E/....TBoPiF4Ht34QptqPqJ2S............
..........U.06U.0.....................E/l02........2./.......U/E................
...../..........................................................................
..........................................E.....I....I....kLHZaP//5Qmx4S........
.....................6E./2E.....................................AnAnAnAnuz1.....
...wz...........................................................................
.....................................................2.....3..../....ooQgFrPZBJS
hB1.a/........................................................zD........kz9.....
...wz...........................................................................
................................................................/....E/...U.....
TBJOiJ4IjRbA............................................................kz1.....
...wz0........zD................................................................
............................................................................}
{Titel: Monsters of Fractal XV - The Aculeatus}


lovely experiments! perfect

Reply

Reply

Reply

Reply

This is a scam bot. The person who logged in with the fake account has horrible grammar and what they program the bot to post makes that evident. They will not see your reply so in the future it's best not to. That will make the bot spam to scam more. If you're motivated to do something the best thing to do is verify that they have a fake account. See how this one joined today? Then you can report them to the administration. They will eventually get their account deleted. If it gets real bad I assume DA's web admin's. will block all new users from the IP address that the bots originate from. If their conniving thieves are spamming hard enough that people don't want to comment the community suffers.
Reply

Yeah I know it's just it's fun to do
Reply

I actually got reported for explaining that these are bots so I don't do that anymore. I was doing it on every spam bot that I though people were assuming was a person so there was a lot of comments. The administrators actually hate the bots as much as we do. They showed me how to report them and now DA not only deletes the bot account when I do it. They also delete all their entries so you don't even see flagged as spam in the comment section anymore. It's pretty cool.

Reply

Reply

Cool techno-organic feel that makes it look like a living space pod or giant spore of some description...
Reply