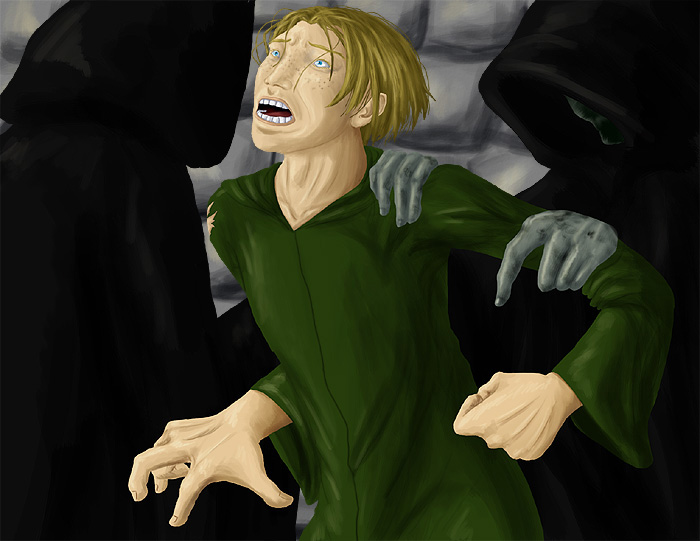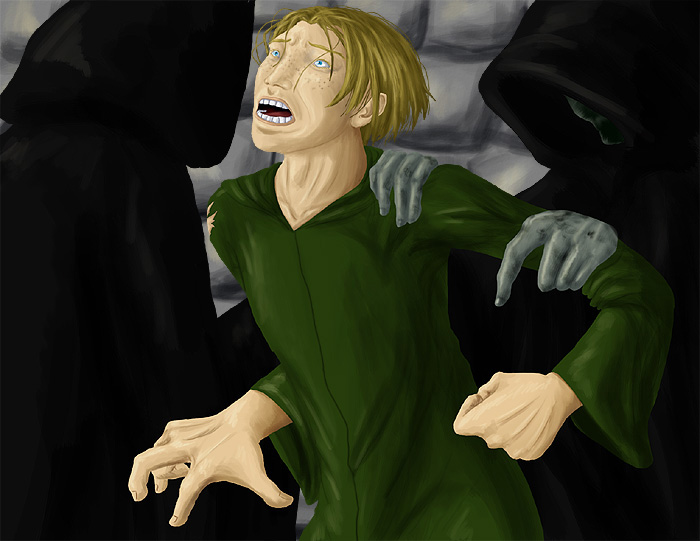 Watch
Here is the scene from the Pensieve in Goblet of Fire, where Harry sees Barty Crouch, Jr. dragged off by the dementors, begging his father not to send him back. "I'm your son!" he cries, and his father answers, "You are no son of mine! I have no son!"

I am quite proud of this one--the facial expression took forever but I finally got it, and the lines and shading came out pretty much right, also. The hands might be a bit big--it's a habit of mine--but I like them all the same.

Edit: I added his freckles. I always forget freckles, even on my own characters, because I put them on a separate layer in Photoshop than the skin...and I always forget!

very nice! lovely shading. I do wonder if the eyes are a little too small (especially for the expression).
Reply

Hmm, that could be. I;m still working on proportions. Normally I make the eyes too big! LOL Thanks much!
Reply

You did a very good job with the dementors and young Barty's expression. And I like how the picture is cropped/positioned (absolutely no empty spaces), it somehow gives the feeling of being unable to escape.
Reply

I did try to fill the whole space. And make sure there's dungeon brick in the background. hehehe Thanks again! The moldy/slimy hands were fun.
Reply

Reply

It's a scene from a Harry Potter book...have you read them perchance?
Reply

i quite like his left hand. and the body shape and the face ^^
very good expression in all of those
Reply