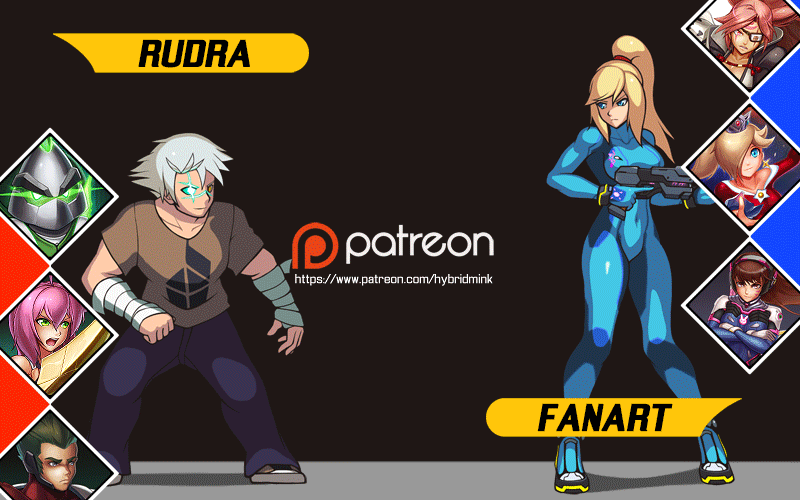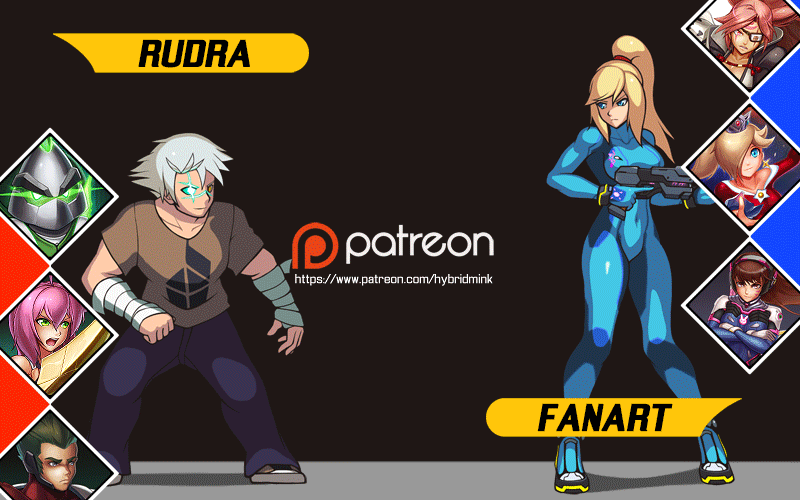 Watch
PROJECT RUDRA website patreon . tumblr. pinterest . instagram . twitter
.
facebook . Store(prints/shirts/cases)
.
gumroad(HD psd files)
www.patreon.com/hybridmink

4/18/17 UPDATE: Suggest who you'd like to be in the next vote! Over on my patreon, all patrons can vote on the characters that I will draw next. I decided to ask deviantart who should be on that next poll! Tell me who you'd like to see in the comments! (please link to an image if possible) While you don't need to be a patron to see the art, there are some benefits you might be interested in:

$1: see sketches and lineart of the process as I'm working on it, vote in the polls
$5: HD full size images of everything I draw
$10: *I shifted some benefits around so nothing special at the momment...
$25: full psds of everything I draw and full sized frames of rudra animations

If you have any other suggestions on what you'd like to see offered to make my patreon worthwhile, let me know! But most importantly, give me your character suggestions! Please limit suggestions to fanart and any of my characters. Thanks!

---------------------------------------------------------------------------------------------------


Hey there! So as you may know, the RUDRA kickstarter unfortunately missed its funding goal. The reality of Rudra's development is that I am often waiting on a progra
mmer to show any new gameplay footage and without funding, that won't be changing any time soon. Since I can't predict his availability, I want to focus on what more people would like to see (and show off some Rudra work when it's ready). Deviantart is easily my favorite and most active community. When I look at the numbers, it's quite clear. You guys love fanart.

But I don't draw fanart as often as I used to. Rudra has taken up most of my time. I gambled the last 3 years of my life on that game, and now I'm just about out of money. I'm looking for full-time work at the moment, but
I am also looking to patreon to help continue working on the game as well as go back to drawing characters on a regular basis.
This would mean converting the Rudra patreon into a"hybrid" of sorts.

Everyone will get more:

-Rudra illustrations & non-spoiler animations
-Fanart illustrations and animations (Possibly the entire Smash Bros roster in the long run)


Backers will receive the following rewards:

-a digital or physical copy of Project: RUDRA & artbook
-access to all RUDRA animations
-access to alpha & beta releases of RUDRA
-WIP updates, sketches, and HD files
-full size psd's with layers like linart, colors, and flats
-vote on at least 1 character drawing per month

-NSFW drawings if enough people are interested...

Thanks to everyone for your years of support. I will still be posting art over here, but the success of this patreon will be the difference between 3 submissions a week and 3 submissions a month. Let me know if you have any questions or comments!

www.patreon.com/hybridmink


Reply

Reply

It's been a while huh...maybe her mario kart outfit?
Reply

Reply

Reply

Samus looks great. The other one got too much going on.
Reply

Wow. That's a damn shame.
Reply