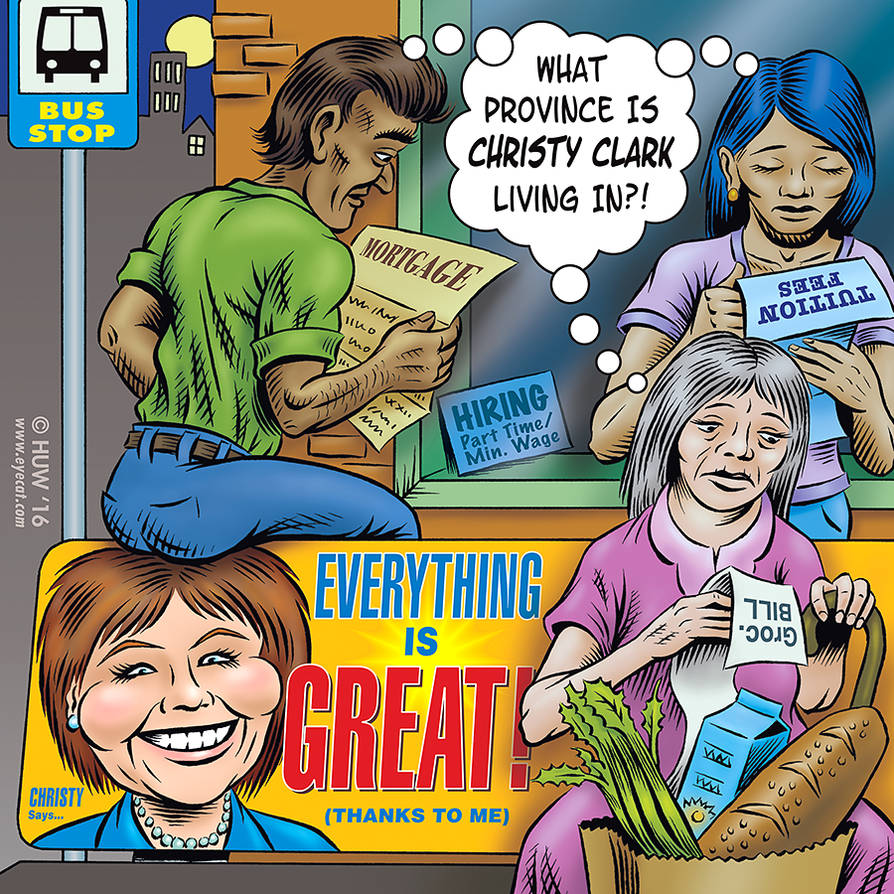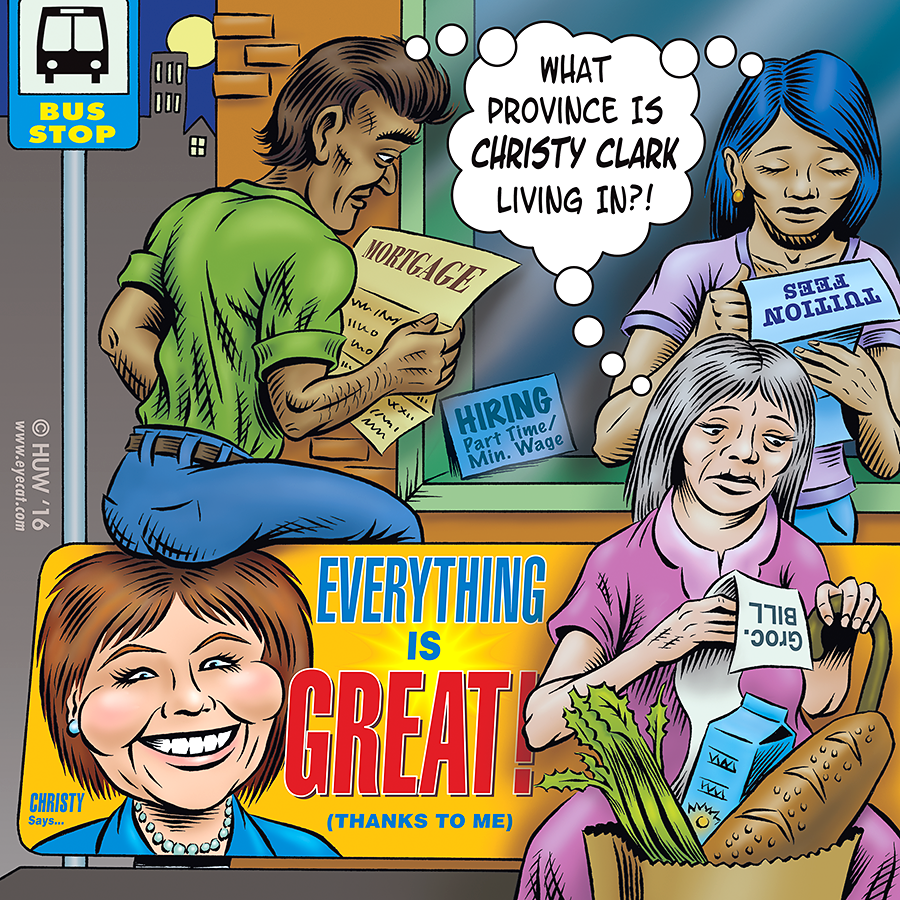 Watch
Here is the latest cartoon I drew for my wonderful clients at MoveUP (formerly COPE 378) in BC. Brush and ink, then scanned and coloured and lettered in Photoshop with help from Adobe Illustrator. Thanks for looking!

I think I know this person. She preaches abundance, unlimited resources, god/the universe wants all of us to be rich; poverty, misfortune, illness and death are simply the reward of negative thinking. She married five times, at last count, in rapid succession as the husbands dropped like flies, leaving her with more and more "abundance". But her daughter became her son. And she got cancer. All the same, she continues to preach abundance and to solicit donations to her church of "me." But in a way she has a point. Abundance is possible for some using the time-tested formulae - "Look out for number one" and "never give a sucker an even break."
Reply

Haha. Yeah, kinda. She finally got voted out anyway, although only by the slimmest of margins. All I think now when I see this cartoon is, "why the hell did I give that guy a pointed werewolf ear?!"
Reply

Reply

Well I don't understand the meaning of the cartoon because I don't have the backup but I sure dig the drawing style, the inking and the colors

Reply

I really hate that woman. And that's saying something given the fact that I live on the opposite side of the country.
Reply

Embarrassingly, I find her kinda hot to be honest, but her politics are not so attractive!
Reply

It's the fact that she's labeled a 'Liberal', then pursues punitive and overtly conservative policies. That's what goads me. She is hot, though. She needs a different hair cut, but that face of hers is just wondrous.
Reply

Yeah, I think the "Liberals" there have become the Centre Right party because the actual BC Conservatives are hardly even a factor any more. As you may know, here in Saskatchewan, the provincial Conservatives were so incredibly disgraced during the Devine years (I mean, people went to prison, committed suicide, etc.) that most of them formed the "new" party called the Saskatchewan Party. To me this was like changing a dog's name after it bit me, but it fooled enough people that they are back in power again! And if we are being honest, it's not just Christy's face I've been checking out ... but it's all research for cartooning, of course. As you will know, good-looking people are the WORST for caricaturing!
Reply

I did not know that about the Saskatchewan Party. Huh. They publish some news stories about BC politics and Alberta politics, but the news stations go silent on pretty much all the other provinces.
Reply

We are now the most redneck province of all, I think. Kind of embarrassing when we are also the birthplace of universal medicare, etc., but people forget.
Reply

Great work man. Love the message.
Reply

I don't know who this Christy Clark is but I'm glad that guy is sitting on her head.
Reply