21 Favourites
18 Comments
118 Views
Drawn traditionally with brush and ink and then coloured and aged digitally. Thanks for looking!
Image details
Image size
1200x1200px 3.02 MB

Yep. Right here around Saskatoon. I did the package art below (and the box design) for the re-release that came out a few years back on VHS and DVD. it's a pretty lousy painting since it's not my natural style, but I'm proud to have done it, plus it's SUPPOSED to look like a crappy B-movie painting ... at least that's my story! That movie is every bit as crazy as "The Room".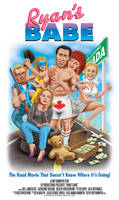 Yep! I watched it a few times trying to figure out
just what the hell was going on in that one. You did your
job for sure, I'm just not sure the writer/director had any idea.


I know the cinematographer and about 2 weeks into the project he and another guy suddenly realized it wasn't meant to be an absurdist comedy but ws intended to be a serious drama/romance! The director (who I think has passed away) never understood why people were laughing at screenings!


That makes sense. A really great bad movie needs
to be made with lofty serious intentions. It's too bad he
died, maybe he could have explained it to me.


At first I thought that this was a self-portrait, because I thought nobody other than a
narcissistic clown slut like yourself would refer to himself as "Mr. Awesome". So what's wrong with people in Saskatoon, anyway? Incest, Bestiality? Incestual bestiality? You do look of bovine descent. I guess those heifers just can't resist you moo-goo!