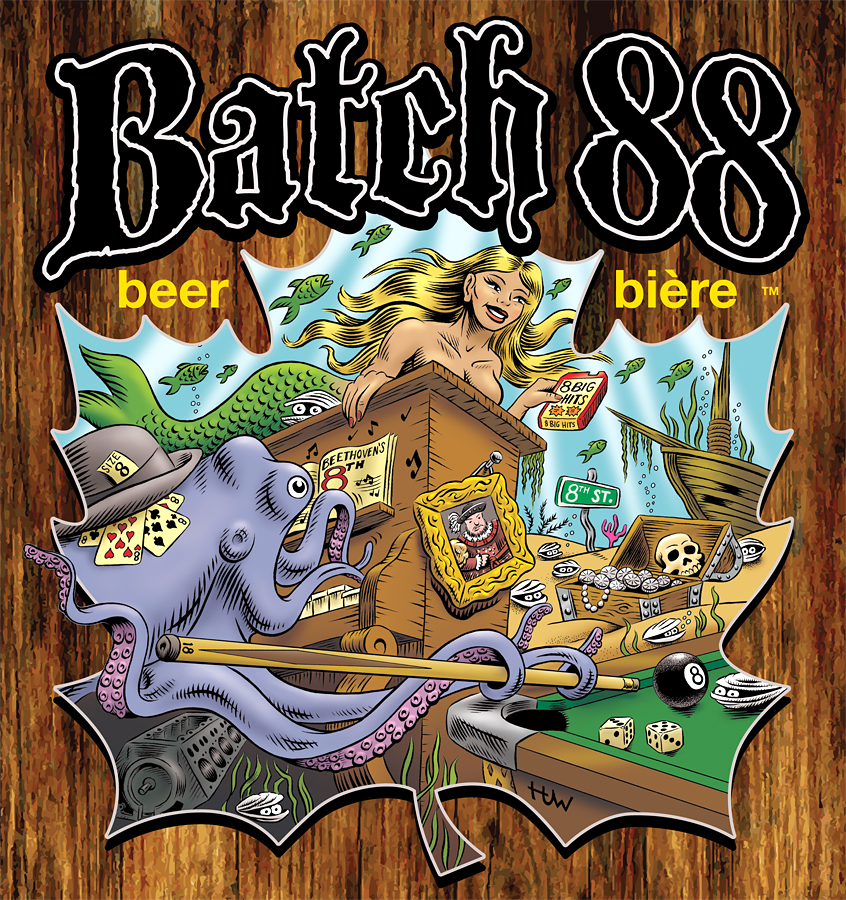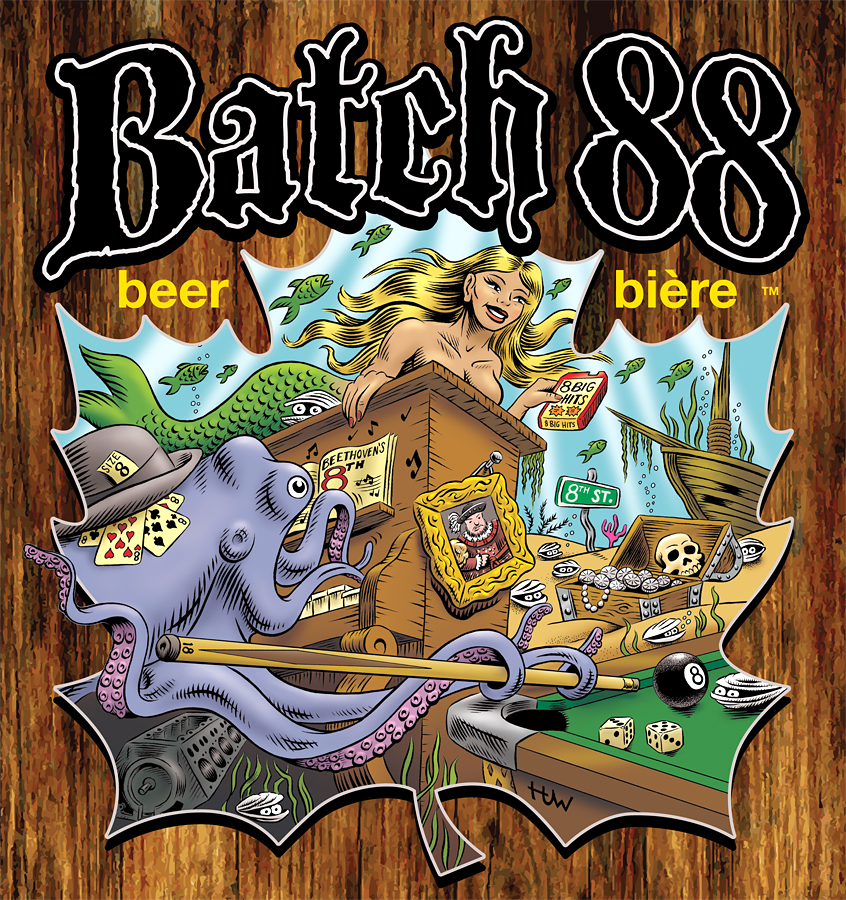 Watch
A recent poster for my awesome clients at Prairie Sun Brewery. Check them out on Facebook, here:
www.facebook.com/PrairieSunBre…
This is for an "oyster stout" and it's called "Batch 88" so we tried to fit in as many references to the number "8" as possible. How many can you spot? Get creative ... maybe that skull is from an 80 year old?!
Inked over traditional pencils with a Raphael 8408, #3 brush and Speedball Super Black India Ink on Strathmore Bristol board. Coloured digitally in Photoshop. Thanks for looking!

Reply

Nice one, Huw.

The suction cups look like eights. Beethoven has eight letters in his name. The H in "HUW" is the eighth letter of the alphabet. The rope is wound around the broken mast eight times. If you look at the skull sideways, the eye sockets and the bone around them sort of form an eight.

How creative do you want us to get? Mermaids are known to be sea dwellers, but if they also live in small lakes, and this scene takes place in the winter, there might be someone up above in skates doing a figure 8 on the ice.

(Psst...the opposite sides on a die add up to 7.)
Reply

Ha, ha. The mast rope revolutions are indeed intentional, the others are greatly creative on your part! And, yeah, I got lazy with the dice and just threw on whatever numbers I liked, (except for the top ones, which add up to eight, of course). Thanks for the fave and for taking time to look this over so carefully!
Reply

Nice stuff, I like the use of the clam eyes to form another 8.
Reply

love the poker, piano, pool playing octopus
Reply

Less obvious ones: 8 Cylinder and maybe this happened in 1988? Nice work.
Reply

Ha, ha. Thanks! Now you got it. The 8 cylinder is definitely intentional (and proof of how crappy I draw technical things) but I like that this happened in 1988! I wonder how many people are getting that a standard modern piano has 88 keys ... and I was obviously going to find the laziest way possible to draw that. Anyhow, much appreciated!
Reply

I didn't know about the piano keys, but now I do.
Reply

Oops - I missed the 88 keys - but I think I saw 8 pieces of 8.
Reply

Those are pieces of 8 but there are actually more than 8 ... which means there ARE 8, I guess ... plus a couple extra. Ha, ha.
Reply

Well - I found at least 16 - does the 16 count as two more 8's?

Nicely done - I'm guessing they're very happy with this.
Reply

Good work! I myself don't even know how many there are for sure. There may also be some that were not intentional, plus we like creative answers like, "the mermaid is pretty good looking; I'd say she's an 8!" (excuse the sexism), or "The skull is obviously from an 80 year old man!". ha, ha.
Reply

Reply