Edit 24.5.2014:
As of now. I've just decided to get rid of the categorizing "series" prefixes on my titles. It originally came from an idea that I'd be painting or submitting a lot more content other than ponies, but that obviously didn't really happen. In the end it just looks silly and doesn't really go well with the way I want my stuff to look: less mechanical, more natural. Also it goes against my philosophy of wanting to introduce the show in a whole different light, I don't want to yell out the fact it's mlp. It just feels wrong and been continuing to do it as a habit. It especially began to grind my gears on the latest pieces where the subjects are more heavy, and so are the titles. Cutie Art Crusaders mentioned about this in one of their episodes a whiiile back, but back then my stand was simply that you're not supposed to read the categorizing prefix in the actual title.. Buut obviously that won't work in reality, it stands out too much and even the purpose is just redundant.
-------
Also, announcing (I can't believe I haven't a long time ago) that I am indeed going to
Crystal Fair
con here in Finland as a community guest. It's surely far far away from majority of you all but it'll likely be the only con I'm ever able to attend. I'd love to get a glimpse of the international community out there, so I hope it'll become successful. Would love to see at least some of you being able to come around.
-------
So yeah, to the point.
I stumbled upon some reeally old stuff and thought it would be nice to properly answer the variations of the question "how long have you been drawing" once and for all, and have something to link for those who ask instead of telling the same story again and again. I've kind of left my past in mystery, especially when all I have in deviantart is pony stuff. I hope this'll cover everything.. And maybe even inspire you to do stuff, maybe.
Ever since kindergarten age I've been drawing like once every few months. Donald Ducks, cartoon characters, video game characters, that kind of stuff. I always had the slight interest for drawing but mostly it was just a way to spend time occasionally. I did even try digital art before ponies came around but that was just like with the pencil ones: I was bored and had a sudden inspiration that went away just as fast as it rose.
I guess I've always been a visual thinker, and thus I've always loved to do all kinds of creative stuff.
So let's take a little sneak peek to some of the stuff I did before I even imagined taking drawing seriously. I dug up a couple of really old drawings and notebooks. Click the pictures for a full view.
-This Scrooge is probably the last Donald Duck -related piece I drew from probably 2007 or so, I used to copy them from the comics.
-Gorloc from Warcraft, around early 2009. This is the tipping point where I don't want to show anything older in terms of video game characters.. It's simply too horrendous.
-The third one was from Bloodline Champions around mid 2010, nothing special. Just to throw in something else.
-Last one is Lich King from Warcraft again, drawn around the end of 2010. It never got finished and it was the very last actual pencil work I did before pony stuff.

I discovered FiM somewhere in early 2011, of course I was rightaway into it jokingly. I didn't start doodling ponies until later in the spring though, I even tried out digital art for a short time around march 2011, those pieces were all about Might and Magic and you can still find them on the bottom of my Deviantart.
Later the things I doodled around notebooks started to turn into ponies, which was still a sort of a joke for me. On the last pages which were actually doodled home, you can see that I actually tried learning to draw them...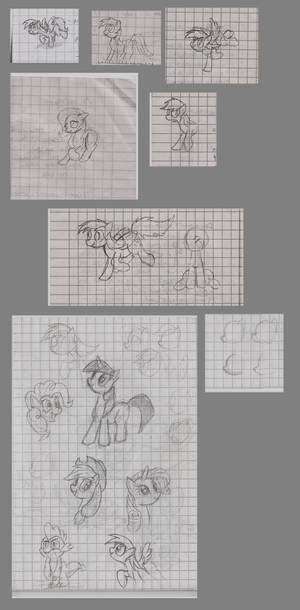 Somewhere that jokingly approach got lost I guess. And finally the thing that sparked my interest for art was no other than
Moe
on ol' Ponibooru, who disappeared from the fandom shortly after I had started. He actually even commented once on my work once on Ponibooru, which was the first colored mlp piece from me (the Lyra one). If he ever comes back...
By all that is holy, I want to have a word with him.
Yeah, from there on I wanted to become good at painting.
So, as stupid as it sounds. This show and its fandom made me find a whole new side of me. Moe's works also made me realize how much I appreciate painterly landscape art, so I dwelved into those concepts too. Of course I could've eventually discovered all the inspiration for art some other way, but.. This is the way I did.
I'm still far from the professional levels, but I hope I can get there one day.
Thank you all.
And as a thank you for reaching this far down.. Here's a little extra. More notebook doodles which are from 2012: