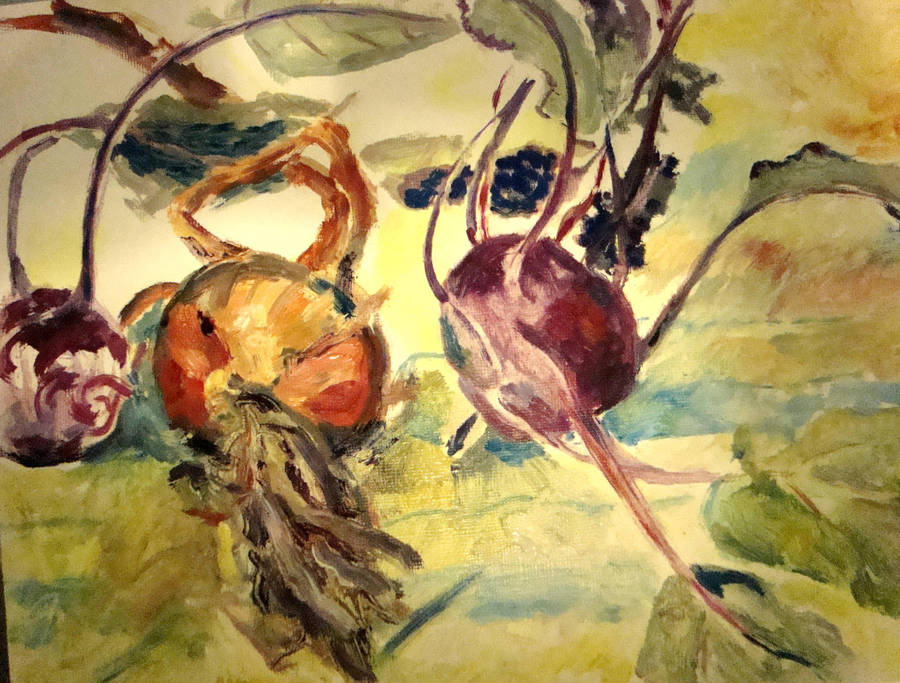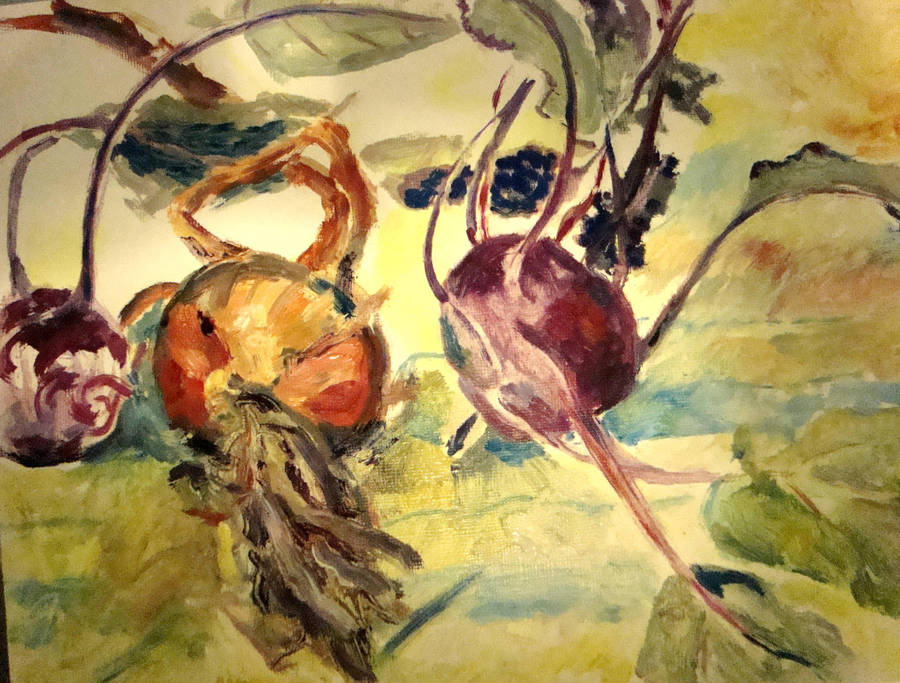 Watch

Hi MmaRamotswe!
OK, here is my critique. I LOVE it! Especially the two veggies on the left. I particularly like the veggies on the left because of the color interest (variety) and the greater contrast range in those two. The "stems" (stuff coming out the top of the veggie, please gimme a break as I do not grow vegetables) on the far right veggie are very interesting, good lines, color -- but I think the vegetable could use more adherence to the ground with a cast shadow at the bottom of some kind. Does that make sense? Right now is it a bit weightless for me. Lastly, regarding the leaves in the lower right corner -- Could I see just a bit more contrast/detail at the yop, near where the stems meet the leaves? Overall, it is WONDERFUL. Just my thoughts, Liz

That was my critique, here is David Bienkowski:
I don't know what Liz's issues is with the yop!
I thought this was a watercolor at first. I was liking it as a watercolor, I'm still liking it as an oil – it is just not what I think of as an oil painting. I tend to be go toward lush, thick oil paint.
Like it a lot. It has an almost graphic feel, made me think of a piece of a table cloth. It is a good feel for the subject matter.
Are you done with it? will you do more? I question the background area in the upper left, there is no textural variation to the color. The dark shape, center upper middle I'm sure it's a leaf but my mind tells me "yum a blackberry".
Reply

Thank-you both v. much for your eyes! Yes, I see that "blackberry" David pointed out. And I think I will try to anchor that veggie on the right with shadow and bump up the contrast of that foreground leaf.

Liz, I think I approached the subject matter the way I would've with watercolor. Next time I will photograph the subject,as I found the light conditions altered A LOT!

Will post this if my changes work out, (and maybe even if they don't).
Cheers, T.
Reply

it has so many characteristics of a watercolor and oils, very fun. I like.
Reply

Kohlrabi sounds like a middle eastern dictator! Oils even? Pretty cool.
Reply