Hi people, first of all let me THANK YOU to those who helped me during this week to raise the money I needed for my studies. I already made the appointment in the lab, and though it will take three weeks for the study to actually happen at least now I can pay for it

Yes, I still have five characters to do in lineart, but don't worry, they will be finished during my next livestream (which might happen during Monday or Tuesday, I am still not sure but I will let you know).
And that brings us to this moment, to accept what I think will be the LAST COMMISSIONS OF THE YEAR!!
Since we are already in the middle of November I see no point in opening commissions for both November and December separately, so that means I am opening 14 COMMISSION SLOTS this time!
These are still the color prices and guidelines: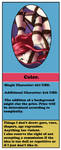 As always linearts cost $14 per character with a maximum of 2 characters per picture. Exceptions are made with frequent clients of course.
Send me a note with the description of what you want if you are interested!
As always, these commissions can be worked on a livestream for you to watch if you want to see your commission being done. We can arrange a day and hour. Remember, payment is via Paypal only.
The Current Commission List Goes Like This:
Pending from last month:
1.

1 Picture.
2.

1 Picture.

New Commissions:
1.

1 Picture.
2.

1 Picture.
3.

1 Picture.
4.

1 Picture.


That's it for now, let's have a great road to the end of the year!
See ya around!