:thumb170201440:














:thumb306440474:


Picture by
Puzzled-Socks
and icon by
TaskmasterTChalla
Thank you both so much. <3 Merr.
I'm an evil abomination living in 'Murica, the land of the muscle-eagles of which I inhale on a daily basis. I am married to humanless facial hair, donated by a kind man named George who often comes around to pee on our snow.
And occasionally, I travel. I visit GSBH, LSNS, and a few others living in the outer regions of our glorious universe. Sometimes I visit Seattle, too. That's a cool place.
I am only 16, and have a long way to go in terms of art improvement. However, if you want to give a critique, feel free to ask to do so. I can be sensitive toward my art, but some constructive criticism would be nice.
If you ever have trouble pronouncing my username, it can either be said as "Hug R.F." or "Hugerf". I've had it since I was 6 and playing Webkinz, no joke, but I decide to keep it for it's uniqueness.
If there's anything else you might want to know, just ask. I'm certainly not the most social of hecks, but I'd be willing to answer if it's not, y'know, maybe too personal or sensitive. If it turns out to be that way, however, I won't get mad. So don't be afraid to talk to me. x3
WORKING ON:
Nothing; feel free to ask for an art trade or a commission.
WAITING ON (Not meant to rush, take your time!):

- Traditional/Digital Portrait of Exxy (unpaid, waiting for signal to pay)
Now badges.~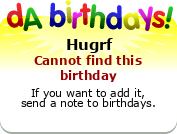 Get a FREE visitor map for your site!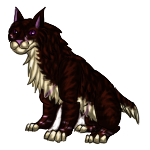 Above is by
Dashing-Grey
Above is by
RZazorZish