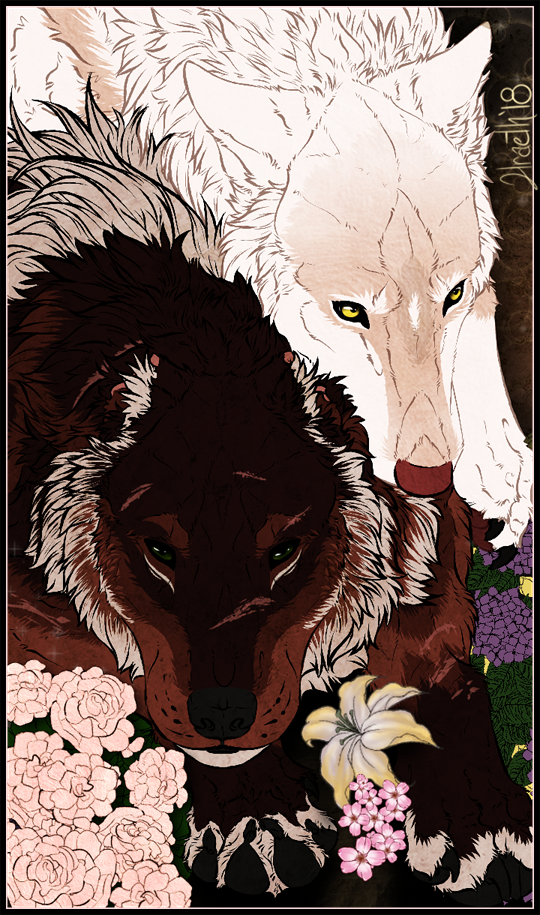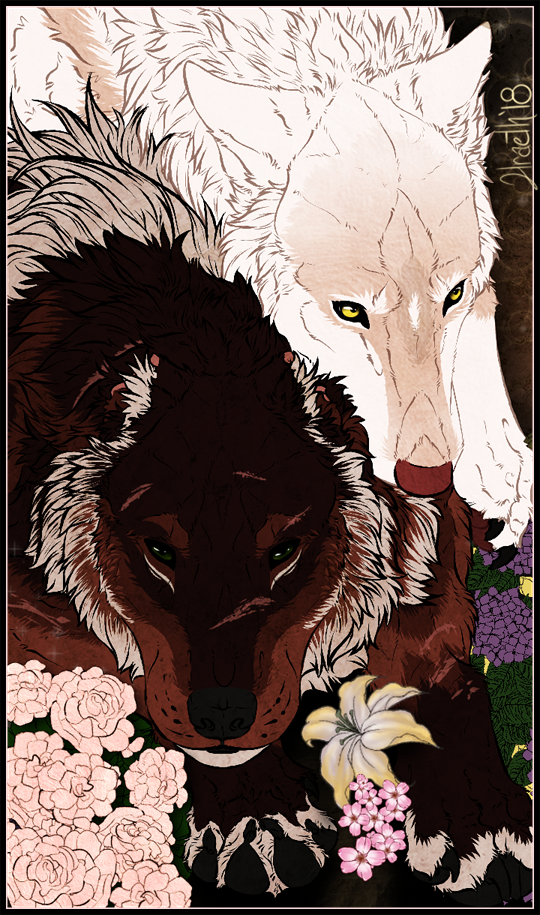 Watch
A scene from an rp between me and
Qanat
!
i swear i rp with other people, we just tend to hash these out within a week so they go quick sob
Shortly after the appearance of the unexpected blood moon, Iorikh witnesses the shadows moving. Believing himself to have gone mad, he runs to Kviir, one of the pack's ocuuli (or herbalists), for a drug to cure his madness. Ever the good 'friend', Kviir takes advantage of his packmate's distress to heavily sedate him and coax loose a few of his secrets.

in other news...

Hraeth Today at 10:40 PM
i should make this pic with iorikh look like it's out of a yaoi anime
Qanat Today at 10:41 PM
.. ANLSKDKLSDNL IDK WHY YOU WOULD BUT YOU SHOULD
'idk why you would' says ka about a pair of debatably gay wolves
---

Bust: 1 soul
Gift Bonus: 1 soul
Plot Bonus: 1 soul
RP*3: 3 souls
Plot Bonus: 1 soul
Total: 7 souls


Your fur detail is endlessly flawless! Teach me, thank u.
Reply

Reply

Reply

HRAETH

plz resuscitate me

*_*

Reply

the coloring..
how do you do it all?!

It reminds me of an old tapestry the way you did it.

Reply

kimi q>q
tbh, it's mostly just textures!!
there's a texture in the brush i used for the lines and then a texture overlay on top of the flats. mess with the blending mode of the layers a little bit..

Reply

I HAD NO IDEA THIS IS WHAT YOU WERE DOING I LOOOOVE THIS
THE LINEWORK IS BEAUTIFUL WTF the fur. oh god
you son of a bitch
oh... oh no i'm in love oh

('idk why', says ka, proceeding to write gayer and gayer posts)
Reply

you always says! 'why do you hide your lines!' and then you call me a bad name!! so abusive!!!!!
so i said
i said to myself..
'this time i'll show them off....'

AAAAHUAHA IM GLAD YOU LIKE IT, THOUGH!! i'm sorry ior's marks are a little off, but.. y'know eue
(that was super gay, tho)

Reply

Reply