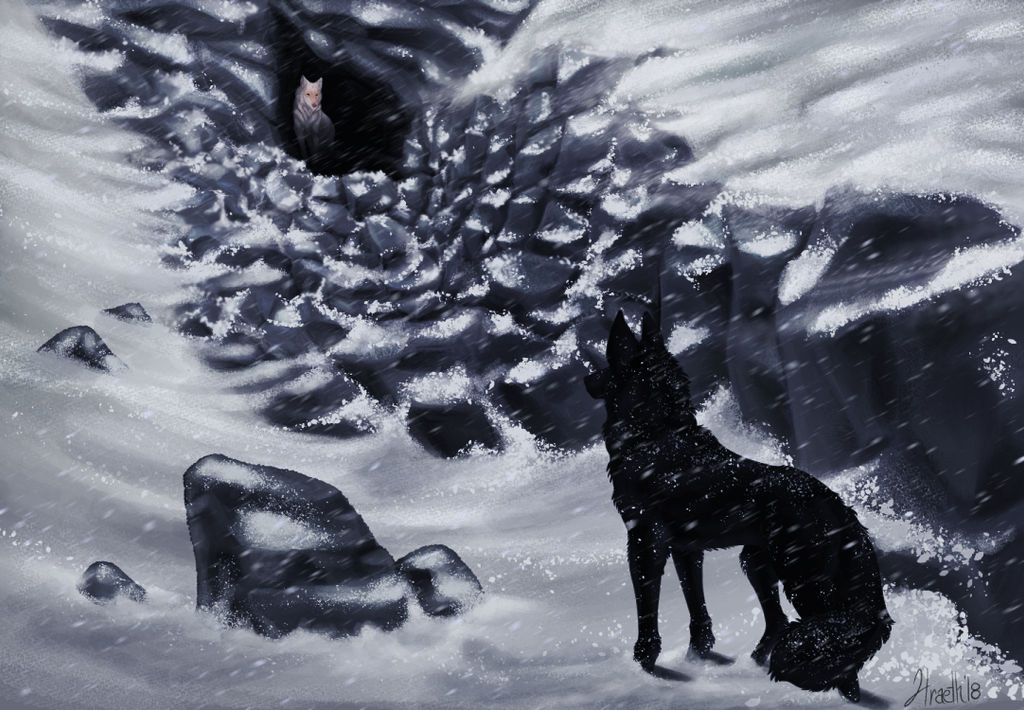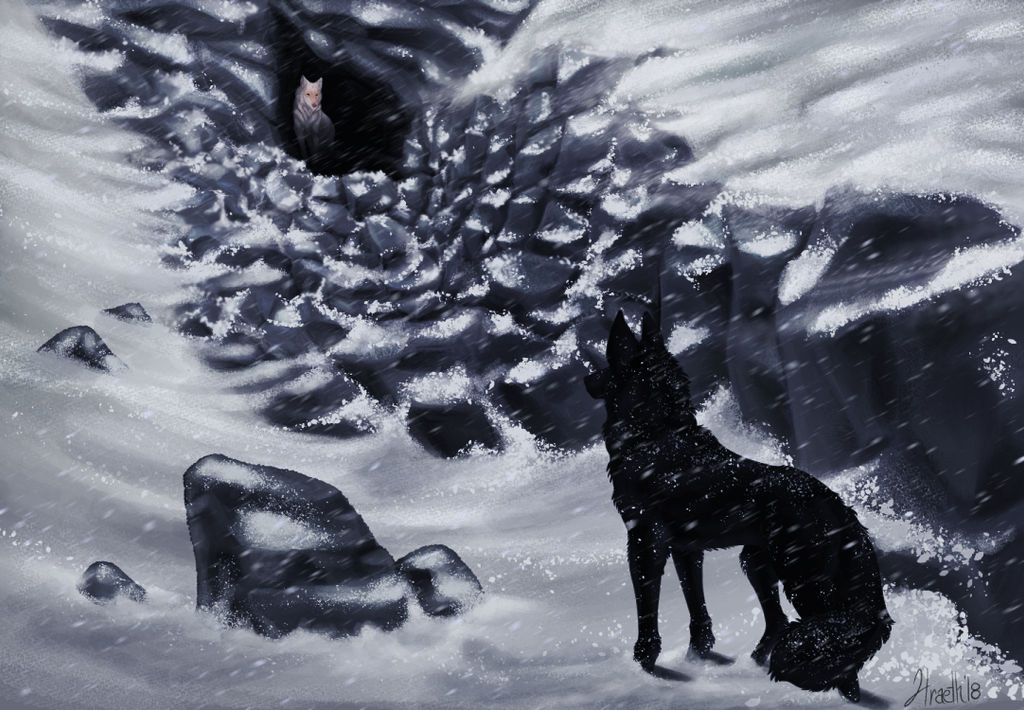 A scene from an rp between myself and
Sealoon
!
After finding shelter from the brutal mountain snowstorm within a hauntingly familiar cavern, Kviir looses a howl for any unfortunate souls still lost in the squall. In doing so, he guides Strymir from the cold, biting of the winter wind into the refuge of the cave. Within the cavern, the pair share in a sultry dance of words and aspirations and allow themselves to be lured deeper into the belly of the mountain by something inexplicable. It's there they find a treasure far greater than glittering stones: a secret show of shadow and light kindled by once-forgotten bones and long-dried wormwood.
---

Illustration: 2 souls
Plot Bonus: 1 soul
Gift Bonus: 1 soul
Total: 4 souls
Icebound(RP): 4 souls

This is stunning! That background is gorgeous, I love how you did the snow, it really feels COLD. I wanna climb in that cave with Kviir too and get out of that storm.
Reply

Goog gosh, this is stunning... Everything about it is SO GOOD. But that scenery. This is the most fabulous snowstorm I've ever seen, and what a ominous, fabulous cave!
Reply

oh man, you're doin' me a blush q>q
i'm so excited to hear the snowstorm is vibing. i wasn't sure if i'd be able to pull it off!
thank you so, so much!!

Reply

UGGH AMAZING!!! This is incredible! I love how you've done Kviir
Reply

YOUUUU LITTLE SHIT THIS IS GORGEOUS. atmosphere is DELISH. i feel cold just lookin at it q>q AAUGH
Reply

HRAE WHAT
you captured the atmosphere of that scene so perfectly, eerie and cold and desolate, it's just THEM
and the texture of that snow is so so good :c
Reply

AAA TYSM!! im glad that all came through

i'm sorry i couldn't get Strymir to turn his beautiful face to the viewer. he can't play coy forever...

Reply

the contrast between light wolf in cave and black one on snow makes this picture very nice to look at <3
Great work!
Reply

ahhh!! thank you so much! <3 i'm glad the contrast came through, the idea of it was what initially inspired me ;u;
Reply