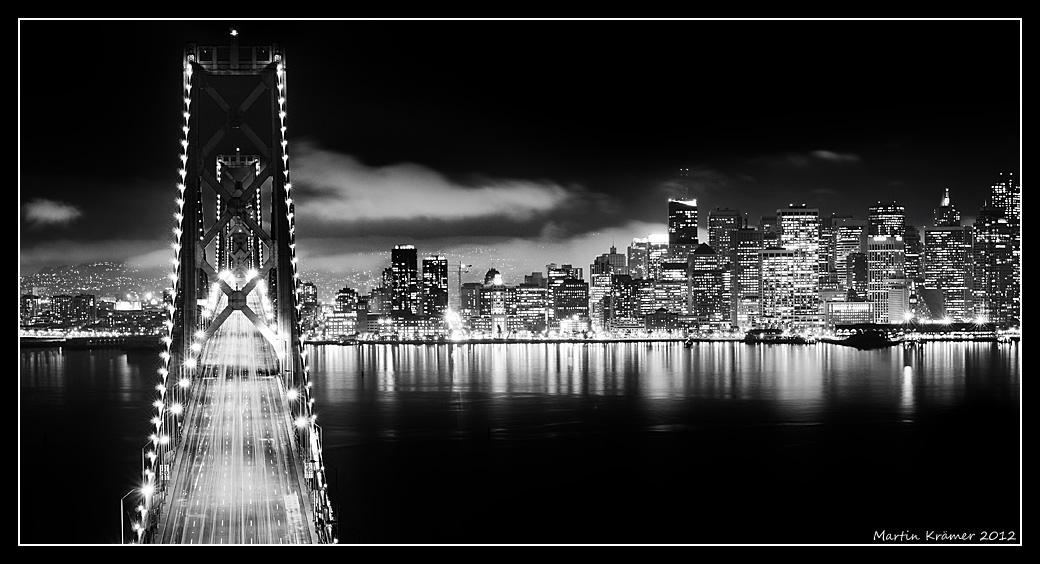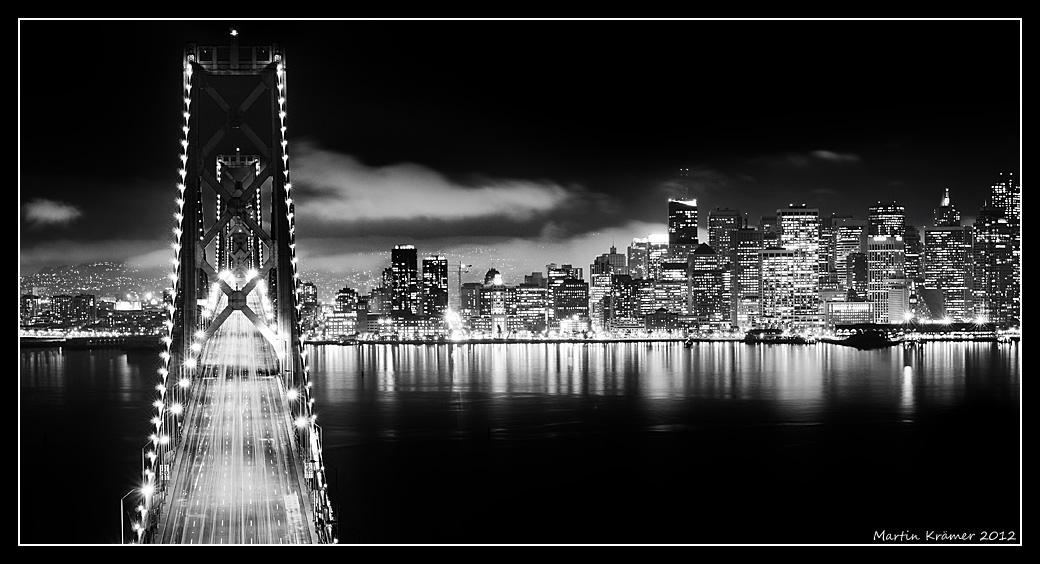 Watch
San Francisco night skyline over the bay bridge

Print available at
[link]
(Deviantart sadly doesn't handle wide angle prints)
More images from other cities at night:
I think I know where that pic was taken from

A very nice skyline piece. My chief "could be nicer if" item is that it seems a little too bright overall, not "contrasty" enough. A shorter exposure would probably be in order, and would also probably bring out some texture in the fog bank coming in. The Bay Bridge in particular (specifically, the amount of light coming off of it) visually dominates the view, and this great amount of light is overpowering the skyline; this is probably what is responsible for the overall "overexposure" feel. You may want to do a shorter exposure and splice the bridge section in (just the bridge's deck and the lights flanking the deck; the marker-lights on the main cables are fine as-is).
One thing that is missing is the Transamerica Pyramid. That building is the most iconic portion of the San Francisco skyline. I don't know if your equipment can get a wide enough field of view to get it into the same frame, but it would be fantastic if you could manage it. It's just off the right edge.
Now the things I particularly like! The composition is great; the bridge on the left really gives a nice sense of balance and depth. I'm also impressed that you managed to do this on a night where the waters of the Bay are calm and reflective. Usually at the time of the day when the fog is coming in there are also blustery winds chopping up the water's surface, and you wouldn't get the great reflections you've captured here. For that reason, this photo is something of a prize.
Well done.
The Artist thought this was FAIR
10 out of 11 deviants thought this was fair.
First I must say this image captures San Francisco very nicely, great job. I have a similar photo I took a while back with the same vantage point. The contrast is a bit much but in this case adds to the mystery of the photo. The bridge detail is great and lighting of the cars streaks is rite on. Buildings are nice and bright but could use some more "blacks" where there is grey. Honestly this is a great photo but it's a tad bit over edited, that's all. Also the clouds somehow do not seem natural, does that make sense? I also see that you edited out the trees that are normally to the left of the picture, unless they were not there when you took this?? Overall great capture, just go easy on the editing...great job though.
The Artist thought this was FAIR
1 out of 1 deviants thought this was fair.