Art We ♥ is a hand-selected art feature, chosen by deviantART staff members, showcasing art we believe the community will enjoy.

Some thoughts from Matt (mattdanna)
Being raised Roman Catholic, Christmas is a big ordeal for my family. On Christmas Eve, we would always celebrate Christmas with my Mom's side of the family and we would participate in this weird
yankee swap gift exchange
. It's such an evil game because only one person really ends up being happy with the gift they receive, and everyone else wants to strangle that person. Unfortunately, I always ended up with a gag gift.  On Christmas Day, we would go to church and then have my Dad's side of the family over for a gluttonous late lunch/early dinner.
I participated in these annual traditions for 21 years. Last Christmas was the first year I did not travel home for the holidays. I had just moved out to Los Angeles a couple months prior, and I thought it was a bit overkill to spend upwards of $600 for a cross-country flight home. Admittedly, the Holidays last year felt weird. Even though I had a lovely Christmas dinner with
Heidi
and her family and it was a nice relief avoiding all the travel plans, shopping, and cooking...it felt like Christmas passed right by without me even noticing. On a side note, it's difficult to get into Los Angeles' sunny Christmas spirit when I was used to the frigid winters of Massachusetts.
Looking back, the thing I missed most was the time I spent with my family. Whether that family time was spent around the dinner table or wrestling people in Best Buy over products like they're a bottle of water in the Sahara Desert, it was still nice to be around those you love. This year, I'm making the trip back home.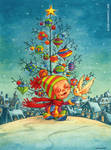 What about you! What's your story?
-What are your plans for the holidays?
-Does your family have any holiday traditions?
Share your thoughts in the comments below!