I get asked a lot of the same questions all the time, so I thought I'd put together a little FAQ so that everything would be in one place. If you have a question and don't see it answered here, feel free to ask!


How long have you been sculpting?
I picked up some polymer clay and made my
very first dragon
in late 1998. *cringe* You can see some other hideously old dragons in my Scraps - it look a lot of practice to get to where I am today. Of course, I haven't been sculpting continuously in all that time. I took multi-year breaks in there, and it wasn't until 2012 that I really took an interest in improving my craft. You know what they say - practice makes perfect! And while I'm far from perfect, the practicing
does
help.


What are your sculptures made of?
I use colored oven-bake polymer clay. My preferred brand is Premo Sculpey - it is less brittle than Sculpey III, and easier to work than Fimo. You can buy blocks of it at your local craft store.
These are the colors that I use most commonly: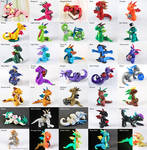 Do you use an armature?
Yes, I do! It helps to keep my dragons from mushing themselves out of place while I'm working on them. I use prebaked bits of clay as a base for my dragons' heads and bodies - I jokingly refer to them as 'head skulls' and 'body skulls'. If I need extra support, I sometimes use wire, but the clay cores are generally sufficient. I used to use tin foil as armature, but I ran into a lot of problems with air bubbles getting trapped between the foil and clay, which would distort the clay while baking. Since I switched to using clay cores, that problem has disappeared.
Do you paint your sculptures?
For the most part, no. I prefer to work in colored clay, because I think my painting skills are mediocre. Also, clay looks more vibrant than paint. That being said, I do occasionally paint details on - I use acrylic paint, and I usually apply multiple coats.
What tools do you use?
I am REALLY picky when it comes to selecting clay tools - I've bought so many, but I don't use most of them. The ones I use regularly are an X-acto knife, a dull blade, and a round-but-pointed tool for smoothing joins. I use a pasta roller to condition my clay, as well as for techniques where I need flat sheets. I also use a Makins clay extruder on occasion - love that thing!
What glaze do you use?
I use Varathane polyurethane these days - it's a floor sealer, and I bought a smallish canister of it at my local hardware store. If you are going to go that route, make sure you get a water-based sealer, not an oil-based one! I used to use the Sculpey brand glaze, and while I think it's a great glaze, with a nice feel to it, I've had a lot of trouble with the glaze thickening up and hardening after being opened only a short while. I hated having to throw out half the jar, so I stopped buying it. I do recommend storing your glaze in a small airtight container - it will last longer that way. I keep a small amount of polyurethane in a spice jar for daily use. That way I don't have to open up the bigger canister all that often.
If you'd like to read more of my thoughts on different types of clay glaze, you might find
Glazing Polymer Clay: Resource and Recommendation
useful.
How long does it take to make a dragon?
It usually takes me a couple hours. Some can take a lot longer, especially fanart dragons and custom orders - I pay more attention to the details on those. I usually make dragons while watching TV, which isn't great for efficiency, but it does keep me entertained!
How big are your dragons?
Seated dragons average about 2" tall - maybe a bit taller if you include the horns. I like to work small!

What are your dragons' eyes made out of?
Bugle beads - I sculpt my dragons based on the way that I draw them, and they mimic my cartoony style perfectly.
Don't the beads and rhinestones melt in the oven?
Nope, they don't because they're made of glass, and polymer clay bakes at a relatively low temperature. I bake my dragons with the gems, stones, and glass already added because the heat won't ruin them. Be sure not to put any plastic in the oven, though, as it will melt. A good example of this would be acrylic rhinestones - you'd have to glue them on after baking. This is why I use crystal rhinestones instead (also, they look nicer).
Help! I dropped my dragon and part of it broke! How do I fix it?

I know how it is - accidents happen! Super glue or any other cyanoacrylate adhesive works really well on these guys because they're technically plastic. My personal favorite is Zap-a-gap because the liquid is really thin and almost unnoticeable after application.
Do you take commissions?
I sure do! Check out this journal post for details:

Commission InformationI sell my dragon figurines at a few anime conventions every year, as well as in my Etsy shop outside of con season. But I also accept commissions - I love custom work and collaborating with others! My strengths include an eye for detail, high quality materials, and over a decade of sculpting experience.


Proffering
- Obviously, my specialty is dragons, but I'm willing to experiment. I have a little experience with making ponies and rats too!
- I can recreate dragons that I've made before, or I can make something completely new. Keep in mind that there are certain designs that I will not replicate, and I will not copy another artist's style.
- I have clay in just about every color, and if I don't have exactly what you're looking for, I can mix custom colors to suit your specifications. I also have mica powders that I can dust on for a shimmery effect.
- I prefer to work in clay, but if necessary, I m

Hi, Just a question, but what are your earrings made of? (Backing/Part you put through ear specifically)
I have sensitive ears and I was eyeing up your etsy store