14.9K
Views
1
Collected Privately
I sell my dragon figurines at a few anime conventions every year, as well as in my
Etsy shop
outside of con season. But I also accept commissions - I love custom work and collaborating with others! My strengths include an eye for detail, high quality materials, and over a decade of sculpting experience.

Proffering
- Obviously, my specialty is dragons, but I'm willing to experiment. I have a little experience with making ponies and rats too!
- I can recreate dragons that I've made before, or I can make something completely new. Keep in mind that there are certain designs that I will not replicate, and I will not copy another artist's style.
- I have clay in just about every color, and if I don't have exactly what you're looking for, I can mix custom colors to suit your specifications. I also have mica powders that I can dust on for a shimmery effect.
- I prefer to work in clay, but if necessary, I may paint very small details (like cutie marks).
- I have a variety of gems and stones for dragons to hold, and I can also create props out of clay. Pricing varies depending on the materials used.
Process
- If you're interested in a commission, send me a note! I am happy to provide price quotes - just let me know what you're looking for.
- I require payment before I ship - see the Payment section for specifics.
- I will send you pictures of the finished sculpture before shipping.
- My turnaround time from accepting your order to sending final photos is generally 1-2 weeks.
- Shipping in the US generally take 3-5 days, and shipping overseas can take up to 6 weeks, but is usually closer to 2.
Pricing
- Prices are in USD
- Custom work starts at $50+shipping for a basic 2" tall dragon with wings and horns. Prices go up with additional materials, props, paint jobs, etc.
- Fanart dragons start at $60 because they are much more work than 'regular' dragons. This includes original characters (OCs), because they tend to be detailed (markings, accessories, etc.).
- I ship USPS First Class. If you live in the US, shipping for a single dragon is $6. If you live outside the US, it is $17 to ship a single dragon to anywhere except Canada ($11). Contact me if you'd like a shipping estimate on multiple dragons.
Payment
- I prefer payment via Paypal, but I can also accept credit card payments via Etsy. If neither of these options work for you, let me know and we can probably work something out.
- I prefer receiving payment in advance, and require it if you are requesting a sculpt of your OC. I will not ship a finished sculpture before I have been paid in full.
Policies
- In order to send my dragons to you, I first pack each one securely into a small gift box. This is then placed in a shipping box with additional padding to ensure that they travel safely.
- My dragons are works of art, not toys. They are not meant to stand up to rough play and should not be given to small children.
- I want you to be happy with your purchase! If you are not satisfied and would like a refund, any non-custom item may be returned within 10 days in its original condition, and I will refund the full purchase price less shipping. I am also willing to offer a full refund if I have not yet started on your commission. For OC commissions that I have already started working on, I can offer a 50% refund - the remainder will be kept as a nonrefundable deposit.
Perusal
Here are some samples and general price ranges.
Basic Dragons
- 2 inches (5cm) tall, $50+
A basic dragon is one where you specify the colors, or perhaps the theme/what it's holding, but otherwise let me create as I see fit. The examples below are shown in order of increasing complexity.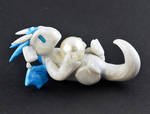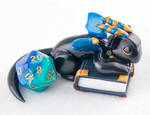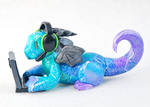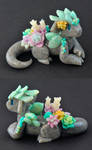 Fanart Dragons
- 2 inches (5cm) tall, $60+
Fanart sculptures are based off of existing characters that have a reference that needs to be followed. OCs fall into this category as well. The examples below are shown in order of increasing complexity.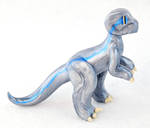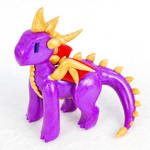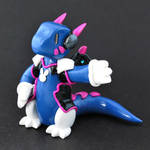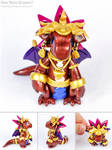 Mini Dragons
- 1-1.5 inches (2.4-4cm) tall, $30-35
These are little, baby-sized dragons, perfect if you're on a budget or don't have a lot of shelf space. I can make them curled around gems, or sleeping on books. Got a different pose in mind? Let me know!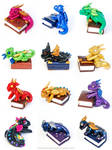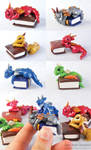 Dragon Pendants
- 1.5-2 inches (4-5cm) tall, $30-45
These are the same size as my mini dragons, but wearable! They are lightweight and comfortable to wear - just be careful not to strike them against anything hard. I offer two styles:
Glass gem pendants
- $30-35
Single-sided dragon curled around a colored glass gem. Any colors are possible, non-fanart dragons are generally ~$30, fanart dragons are generally ~$35.
D20 pendants
- $35-45
Fully sculpted, in-the-round pendant of a dragon curled around a d20 die. I always put the 20 facing front and center unless requested otherwise. Dice are translucent or pearlized and come in many colors. Non-fanart dragons are generally $35-40, fanart dragons are generally $40-45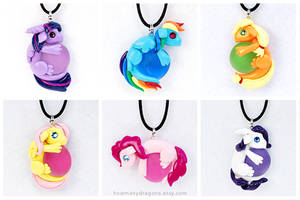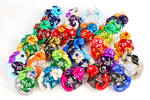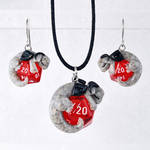 Oversize Dragons
- 2.5-3 inches (6-8cm) tall, $75+
These are larger dragons, suitable for holding full-sized dice or for bearing more complex color blends. The examples below are shown in order of increasing complexity.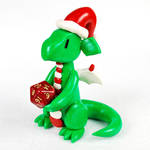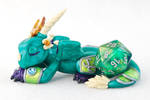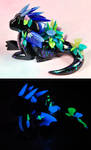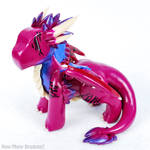 Paired Dragon Wedding Cake Toppers
- 3 inches (8cm) tall, $160+
$160 is the base price for two simple paired dragons due to the effort of working at a larger size as well as making them interact. The price will increase with added complexity, paint job, props, etc.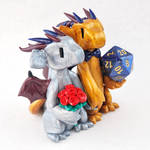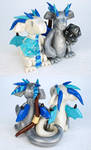 You are also welcome to view
my commissions gallery
for previous commissions, or
browse my full gallery
for additional examples of my work. I also have a
Clay Dragon Color Chart
if you want to see exactly what colors I work with. If you have any questions about the commissioning process that I haven't answered here, please don't hesitate to ask by either posting a comment or sending me a note.
Ready to order?
If you're interested in commissioning me, go ahead and send me a note! It's very hard to keep track of things through comment threads, so noting me really is best (I don't bite, promise). I am looking forward to helping create the dragon of your dreams.

---
Got questions about my process/materials? Check out my
FAQ
!

Now I want one of one of my characters too as well as for my brother's birthday gift. You have such reasonable prices here.