704 Favourites
31 Comments
1K Views
Somehow, I managed to survive the holiday selling season once again, thank goodness. I just shipped out all of those must-arrive-by-Christmas orders, and now it's just a bit of cleanup on a few other orders before I'm free to sleep forever. Let's celebrate by enjoying the one wintery dragon that I managed to make amidst the madness.

I've been meaning to revisit the (super easy!) faux-knitted clay technique, which I used quite a long time ago, so this was the perfect opportunity to make a dragon wearing a warm, knitted scarf. It turned out cute and chunky, but I think I can improve on the next attempt. I paired the bright red glitter Fimo with white glitter Fimo and Fimo effects jade for a pleasant holiday color palette (An all Fimo dragon? I think that's a new one for me...). I really liked the addition of the big emerald green gem and the little emerald earrings. I think it really ties the whole piece together! I am SO looking forward to making more wintery dragons now that I have a little bit of free time again.

This dragon one of several new additions to the shop and is currently looking for a home! Please visit her Etsy listing if you'd like to view sales information and additional photos (and take a look at the rest of my shop if you want to see what else is up for grabs).

Crafted from Fimo polymer clay, glass bugle beads and Swarvoski crystal elements.


Thematically appropriate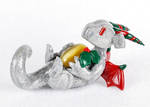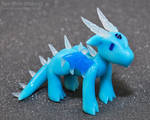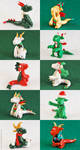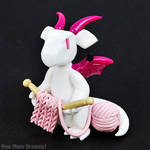 ------------------
HMD is on: Etsy | Facebook | Instagram | Twitch
Interested in commissioning me? I welcome custom work! Check my Commission Information for all the details
IMAGE DETAILS
Image size
700x700px 171.89 KB
Date Taken
Dec 11, 2018, 9:52:57 AM