540 Favourites
36 Comments
2K Views
This is a bit out of season, but it was too cute not to share. After making my previous Snowy Scarf Dragon, I wanted to take another shot at the chunky knitted scarf, since I thought I could make some improvements to my original attempt. This time around, I went for a smoother textured gold clay, and I added a tiny fringe onto the ends. I am quite happy with the results!

For the dragon, I went with one of my favorite clay colors - silver glitter. It's so beautiful and shimmery once glazed. I also gave the dragon a candy cane and some mistletoe accents for a little extra holiday cheer.

This dragon has found a home, but you can still visit her Etsy listing to view additional photos.

---

Want to see how my dragons are made? I sculpt live every Saturday night from 7-10pm Pacific. You are, as always, invited to stop by and say hi over on Twitch. I'd love to see you there!


Christmas/winter dragons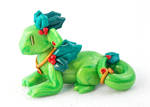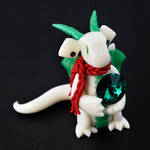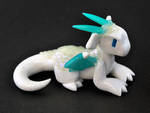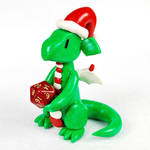 ------------------
HMD is on: Etsy | Facebook | Instagram | Twitch
Interested in commissioning me? I welcome custom work! Check my Commission Information for all the details
IMAGE DETAILS
Image size
700x700px 160.37 KB
Date Taken
Jan 3, 2019, 7:45:44 PM