604 Favourites
23 Comments
1K Views
It's been a while since I last made a labradorite dragon, and I was feeling the itch. I decided to work in rich shades of blue and gold this time around, as I've struggled with dark colors taking over my labradorite veneers in the past. I'm really happy with how everything turned out this time!

You can see that I tried two different types of texturing this time around. On one side of the dragon, I've featured my standard, randomly crisscrossing line texture, and on the other side, I tried doing just parallel lines instead. It's an interesting difference - those parallel lines are giving me some serious zebra vibes - I'd love to explore that idea further at some point.

Crafted from polymer clay and glass bugle beads. No paint!

Goldie has found a home, but you can still visit his Etsy listing to view additional photos.

---

My next sculpting stream is tonight, from 7-10pm PDT as usual. Want to see what I'm working on? Drop by and say hi over on Twitch.

Faux stone techniques are fun!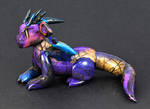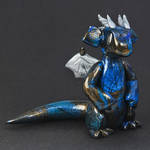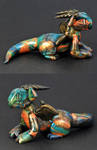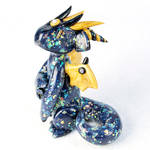 ------------------
HMD is on: Etsy | Facebook | Instagram | Twitch
Interested in commissioning me? I welcome custom work! Check my Commission Information for all the details
IMAGE DETAILS
Image size
700x1080px 261.41 KB