This little dragon comes to you straight from the ocean depths. Her hide is black and studded with ethereal color-shifting green and purple scales. Her wings, tail fins and horns are a soft teal-to-green ombre color shift, decorated with reflective golden flakes and little water droplets bead the edges. An enchanting multicolored gem adorns her forehead, and she holds her greatest treasure in both paws - a light green pearl.

There are a few themes that I love returning to time and again, and fishy sea dragons is one of them. After making the last two opal dragons, I knew I had to use those soft and ghostly colors to make a deep sea dragon. I unfortunately covered up most of the green color from the Black Opal flakes with the dragon's wings, so they don't show as prominently as the purple, but I think the overall dark coloring really helps the dragon's translucent ornamentation to take center stage. My favorite part? The color gradient horns. That color shift makes me so happy.

Crafted from polymer clay, Lumiere Lusters opal flakes, bugle beads, microbeads, and Swarovski crystal elements.

This dragon has found a home, but you can still her Etsy listing to view sales information and additional photos.

---

Want to see me make something similar to this dragon? My next sculpting stream is tonight from 5-8pm PDT, and I'm thinking it's time to make some more water-type dragons. Come visit and join the fun!

Influences for this dragon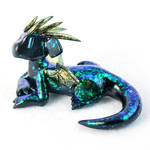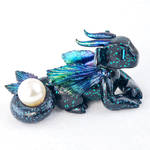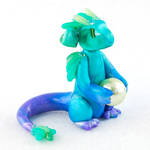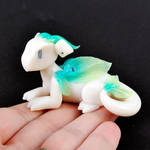 ------------------
HMD is on: Etsy | Facebook | Instagram | Twitch
Interested in commissioning me? I welcome custom work! Check my Commission Information for all the details