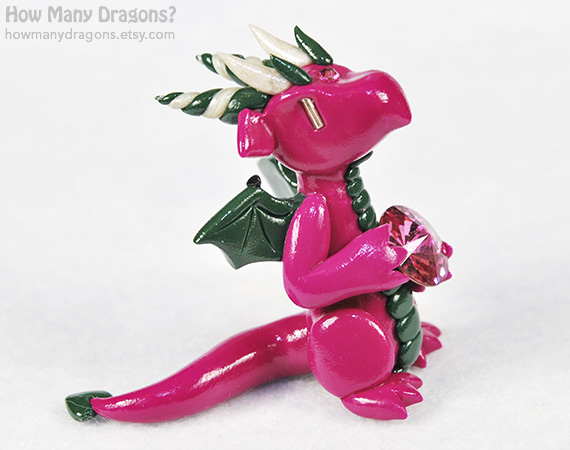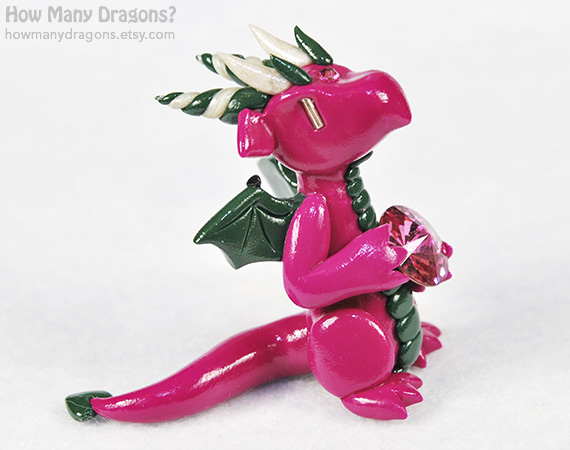 Watch
This dragon represents October in my birthstone collection. One of October's birthstones is tourmaline (specifically, pink tourmaline), so this dragon holds a light pink rhinestone gem and has a matching gem on her forehead. In keeping with tourmaline's coloration, this dragon has a bright magenta body, while her accents are a mix of pearly white and dark green.
I know, I know, you were all expecting opal, right? I didn't realize when making these that there is such a strong association between October and opal, and it was easier to find a pink gem than an opalescent one. So I don't know, maybe I'll have to try again on this one.
BTW, tourmaline is one of my favorite gems, and I was really excited to make a tourmaline dragon. In fact, it's the first birthstone dragon that I attempted to make once my rhinestone gems arrived. The one pictured here is the second one I've made though, as the first one was pretty strange and not worthy of joining the lineup.
This dragon is a repeatable design available for purchase on Etsy. You can find additional photos and sales information
at her listing
.
Previous birthstone dragons

------------------
Browse for-sale dragons on Etsy:
howmanydragons.etsy.com
Find behind-the-scenes photos and updates on Facebook:
www.facebook.com/howmanydragon…
Interested in commissioning me? I welcome custom work! Check this journal for all the details:
fav.me/d6w3nr4