Hi all! It's past time for me to announce HMD's plans for 2019, so let's get right to it.
I unfortunately did not get into any conventions this year. I usually try to sell at two or three a year, but no luck this time around, so you'll just have to find me online. Fortunately, not having to put in the time to prep for cons means I can put more time into my online presence!
Here's where else you can find me.
Facebook
Instagram
Etsy
Twitch
Facebook and Instagram are pretty much mirrors of what gets posted here, maybe with the occasional extra video over there, so you're not missing out on much if you don't follow me over there.
Etsy is where I sell my dragons. New dragons tend to sneak into the shop whenever I feel like it, so that's the place to stalk if you're looking for something new from me. I usually post newly listed dragons to social media, but sometimes I batch the listings up and it takes a few days for everything to actually get advertised... It's not a perfect system. <_<;
I get asked if I have a Youtube channel or tutorials reasonably often, and the answer is, "Not yet, sorry." However, I do stream my sculpting three times a week (plus game streams on Fridays) over on Twitch, so if you want to learn all my secrets, that's where you should go. Here's the current schedule: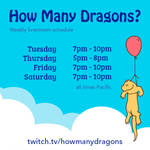 You don't even have to watch live! That's the most fun, I enjoy the interactivity myself, but past streams are saved for something like two weeks, so you can always come in and watch them, even if I'm not live.
Anyway, I just switched the Thursday stream times to be a bit earlier to try to help out the East Coast folks, so I need to go set up for that right now. Looking for something to do? Come hang out with me and the regulars - we're a chill group and we love to meet fellow artists.