Deviation Actions
Daily Deviation
July 7, 2014
[Stock & Resources] The suggester says:
"
I have found this pack to be one of the most useful packs for me to use in my digital works. The brushes mimic traditional media and the variety of brushes makes it a perfect pack for every artist."
My Brushes by
HoustonSharp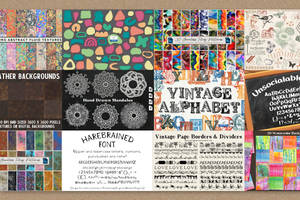 HG Designs Subscriber Area
Lots of high resolution goodies for graphic design including textures, photoshop brushes, seamless patterns and more.
---

733.4K
Views
1
Collected Privately
Description
Hey everyone!
This is the set of brushes that I currently use. I like them because many of them do a great job of mimicking the look and feel of traditional media.
I've gathered them from many sources over the past couple of years, and I organized and named them according to what properties they have, so the best way to view them (at first, at least) is to set your brush presets to the "small list" or "large list" in order to see the categories and names, and also have brush settings window open as well so that you can see the brush stroke of the selected brush.
And although I already categorized them, I would recommend that you separate the pack into a few different sets, so that that there aren't so many brushes to navigate through. When you need a brush from another category, simply load that set!
Hope you guys like them!
Don't forget to find me on instagram!