I like creating graphics, but only when I have ideas. lol
I like drawing too, but it is not my strong suit so I just don't do it. lol I like all kinds of music, I used to make my own a good few years back, but I lost all of that in a hardrive crash due to a virus, and backdoor bots.
I am a member on many forums and sites. And I own a few myself.
I am also a secret agent. lol.. But I can't tell you an agent of what. So that's where the secret is. lol


and sometimes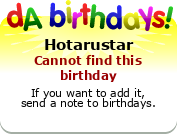 Help raise my adoptables!


Click Me!
Current Residence: Indiana, USA
Hometown: Texas, USA
Favourite style of art: Digital
Operating System: Win 8.1 pro 64bit
MP3 player of choice: One with a good battery. lol
Favourite cartoon character: Sakura from CardCaptors
Personal Quote: A childs pain can turn them mental.