I just realised that I haven't updated my journal since March so much for actually getting off my ass and updating this regularly (I'd blame World of Warcraft but I just hopped on after a long break).
Any way this year health wise is still pretty poor. I went in for several tests for my back and I keep getting different results all the damn time. First it was just a curvature, then torn muscles and ligaments , the last X-ray showed a narrow disc but that also turned out false. Next was a CT-Scan and that said I had a connective tissue disorder, that also turned out wrong. I had a full body bone scan and have finally managed to get the damn results and oh guess what according to that my Spine is fine and that both my elbows have arthritis..... Pardon my language but what the fuck? My elbows aren't in pain my back is. I know I would suffer problems with my right elbow later in life because I broke it 5th grade but not now. I am now at the breaking point and if I don't get answers soon I will lose my mind.
Ok enough depressing crap.
I am currently without a scanner so my art updates have been slow, I am borrowing my mum's at the moment but it can be a royal pain in the ass, so if I owe you any art sorry if I'm taking forever, I haven't forgotten so don't worry.
I'd like to open up for commissions soon as I could really use the money right about now so I'll post an update when I can work out costs.
So until then I'll leave it here.
See ya
Random Features:
:thumb34651445: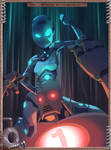 :thumb186302581:
Disclaimer:
World of Warcraft®
and
Entertainment®
are all trademarks or registered trademarks of Blizzard Entertainment in the United States and/or other countries.
These terms and all related materials, logos, and images are copyright © Blizzard Entertainment.