Hello everybody!
I am member of deviantART since Summer 2013 and until now I have published 200 files (pictures and texts). Many of them were flags, coats of arms, maps and alternate history stories. However, the greatest work I compiled at deviantART is this list of language symbols:
First part: official languages
(official at national or subnational level)
Second part: unofficial languages
(because the first part was full)
Third part: small languages
(all that didn't fit in the second part)
Of course I created some linguistic flags and listed them
here
. My other galleries contain
various maps
(mainly
flag maps
),
symbols of possible Slovak regions
(I am Slovak),
some Iberia stuff
,
Central Unity stuff
(
Central Unity
is my alternate timeline) and
some stuff invented before I joined deviantART
.
Now I say something about Iberia. I was amazed by Spain and Portugal since childhood and didn't understand why they divided the peninsula so strangely that Galicia is part of Spain. Then I asked myself why they ever divided the peninsula and didn't make single country. If they did so, Brazil would speak the same language as rest of Latin America, because the single language would be colonial at the expense of others. However, languages of Lisbon and Madrid both became colonial, unlike Basque, Catalan and others. When I discovered that modern Spain was born from marriage of Ferdinand and Isabella, I told myself: One marriage caused fusion of two different kingdoms to create single "nation state", as Franco saw Spain. Why this fate of subordinating and risk of assimilation fell on Catalans and Basques and not on Portuguese? What kind of internal power Portuguese have they didn't join Spain? With the word "Spain" I meant multicultural Iberian federation, more similar to Switzerland than current Spain. However, I later renamed the union to Iberia, because this term is not bound to any current nation. I always considered Iberia as union of four nations: Basque, Catalan, Castilian (later renamed to Spanish) and Portuguese. Galician nation is product of Spanish influence within Spanish boundary and they are basically Portuguese. In Iberia Galicia should be part of Portugal, but still within single state with Spain. For more of my Iberian thoughts, read my journal entries
Some words about flag of Iberia
and
Outline of Iberia
.
However, I still remembered Iberia has nothing to do with my main focus of interest: symbols of languages. Flags of Switzerland, Belgium or Canada are nice, but hardly usable to mark languages, so I never fell in love with them. While
many
pages
discourage use of flags for marking languages, I realized they all discourage use of
national flags
. With this remark I turned the sail and instead of speculating
which official flag to use
, started to look for explicitly linguistic flags. One prominent example dating to 1905 is
flag of Esperanto
. For some languages national flag isn't bad, when the language is not used beyond the nation. However, it must sometimes be modified, because some flags contain explicit representation of territory. Flag of language should never include map, coats of arms of counties or some political symbol. Thus I used
this flag
and refused
official flag of Croatia
with representation of Slavonia, Dalmatia, Dubrovnik and Istria. It has nothing with Herzegovina and Vojvodina, where Croatians live, not to mention minorities in Austria and Slovakia! But red-white chequy alone is recognizable Croatian symbol fitting to national tricolor. (Similar "minimal symbols" for countries I collect
here
. I am Wikipedian since 2009.) My journal entries about linguistic flags
are
here
and here is list of
my requests
for (not only linguistic) flags.
However, I didn't constrain myself to linguistic symbolism. I used to like alternate history, but rather from visual side. I enjoyed AH flags and maps and looked for inspiration for my linguistic stuff. Some flags in my list were adapted from
AH.com
and I myself contributed there with some images (and texts). An interesting alternate history is partitioning Germany after WWII in more than two states. Here are two maps of tri-partitioned Germany:
<da:thumb id="326211014"/>
I don't contribute with another map, rather with flags of the three parts as I would make them.
Kingdom of Hanover (officially Kingdom of Germany)
Federal Republic of Bavaria
People's Republic of Prussia
Black in Prussian flag is changed to Socialist red and pan-German tricolor is present in CoA, because Prussians hope to unite all Germany under Socialism. The word "Germany" is not used in political context.
German tricolors
and
are not in official use, although they are still unificational symbols of Germany (monarchic or republican).
This is alternative history. However, independence of Scotland could become reality and then real history. I wrote
a journal entry
before the referendum about post-independence British flag. This
was proposed as Scottish flag, but current saltire would be suitable for independent country. The problem was that St Andrew's Cross has prominent place in British flag. This problem vanished by referendum results and was debunked by me
here
. But while Union Jack is preserved for the United Kingdom and its colonies, it can be removed from flags of independent states. Australia is the biggest one with still containing UJ in national flag. The fact that Southern Cross is prominent feature in New Zealand flag (although with different color and number of stars) encourages both countries to change their flags. Let me now forget all arguments against flag change (from cost to memory of war veterans) and see how the first flags of Australia and New Zealand looked:
Ad fontes
, literally "to the sources", can be a way to new flag. Modifications of these flags made by
Kristberinn
:
<da:thumb id="426234479"/><da:thumb id="426233185"/>
Still similar to each other, but influence of former designs is obvious, same like connection to Britain. Both designs are unique and can replace UJ in cantons of other flags, e.g.
or
. Here are my designs for flags to be used in
Australasia
:
and version on Imgur:
The former Kiwi flag is proposal by
Kyle Lockwood
with adding black and I don't like it. The latter Kiwi flag is version of AlthistoryGuy's proposal with stars more resembling
current NZ flag
. The Ozzie flag is combination of
green-gold bicolor
and Australian Southern Cross. It is unique with seven-pointed stars and additional seven-pointed
Commonwealth Star
is omitted, because number of states can change. I appreciate
these designs
, but I as partially Hungarian recognize the eight-pointed star as
Finno-Ugric symbol
. The seven-pointed star
isn't unique either
, so I prefer the Southern Cross. The only similarity is with flag of Brazil, but it is different enough.
Flags of the United States of Europe
United States of Europe is fictional name for yet nonexistent entity, but one can design its subdivisions and also flags for them. My idea was to divide greatest countries in order to balance powers. The main problem was the ideal partition of Germany, but this is good IMO. I divided current European Union into 50 parts and assigned flags to them. Images taken primarily from Wikimedia Commons.
Åland

Alsace-Lorraine
Andalusia
Austria
Basque Country
Brittany
Bulgaria
Catalonia
Corsica
Croatia
Cyprus
Czechia
Dalmatia
Denmark
England and Wales (flag of England is not accepted by Welsh, this is my proposal)

Estonia
Finland
Flanders
France
Galicia
Greece
Hungary
Ireland
Italy
Lapland
Latvia
Lithuania
Luxembourg
Malta
Netherlands
North Germany (everything north of Westphalia)

Occitania
Poland
Portugal (current flag symbolizes independence, this is my proposal)

Prussia (colors adapted from socialist flag, includes Mecklenburg)

Romania
Sardinia
Saxony (includes Thuringia)

Scotland
Silesia
Slovakia (flag with CoA is unofficially used)

Slovenia (these designs are unofficially used)
South Germany (Baden, Württemberg and Bavaria)

South Tyrol
Spain
Sweden
Transylvania
Ulster (renamed Northern Ireland)

Wallonia
West Germany (unofficially called Rhineland, includes Westphalia, Hesse, Palatinate and Saarland)

Possible states:
Aragon (proposal by
Leonardo Piccioni
,
current flag
is unofficially used)
Frisia
Padania
North Cyprus (it may be outside the USE, but if inside, it is separate state)
Number of states is deliberately 50 as in USA, if some from the latter list is added, Occitania or Lapland can be removed. I don't know exact boundaries. For Croatia and South Tyrol coat of arms is necessary, elsewhere I avoided it. However, it can be used in unofficial flags. Twinship of some flags (Slovakia-Russia, Dalmatia-Ukraine) is thus not defect. Widely used, but unofficial flag for united Germany is this:

Last but not least, this journal entry is list of my future works. I will submit no new deviations, only update older ones. However, my works on
Imgur
and some taken pictures are listed here, so you can still watch me, comment or write notes.
Some taken flag proposals I like
or
New York State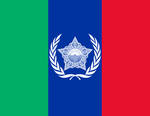 Transcaucasia
(twin of my
flag of Great Britain
)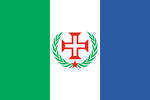 Brazil
Caribbean Netherlands by
Leonardo Piccioni
(
Leoninia
)
Examples from my Imgur
Union Jack with Wales
Scot-free Union Jack
Scot-free Jack-free British flag
Czech flag (without symbol of Slovakia, but with Moravia and Silesia)
Flag of Westoslavia (Czech-Polish-Slovak state)
Improved flag of
EFTA
(old version
)
Old flag of German language (superseded by
)
Flag of Alemannic German (competing with
)
Variant flag of Chinese language (original
)
Flags of Turiec, Spiš and Zemplín
counties
Flag map of counties, the flags are listed
here
and my ones explained in Slovak
here
Final proposals for new flag of Australia (for Northern Ireland I am decided for
this one
and for New Zealand
this one
)
Flag of KwaZulu-Natal (improved this one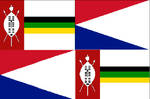 )
Flag of Spain for use in Catalonia (reaction on
this
)
Flag of United Palestine (
more proposals
)
Flag of United China (inspired by
,
and similar to my flag of Gemer
)
Flag of Czechs in Slovakia: Czech bicolor completed with Slovak blue covering 1/3 of flag (proportion of Slovakia in Czechoslovakia)
Flag of Slovaks in the Czech Republic: triangle is typical for Czech land, double cross for Slovak nation
Proposed flag for Basque-Icelandic pidgin
Flag for Afrihili language (based on Swahili and Akan, thus flags of Kenya and
Ashanti
are used)
And why am I writing in English? I feel comfortable writing in English and I know it is comprehensible for many members of devART. While being fluent in Esperanto, I don't endorse it here. However, if you want, you can practise another languages with me, including CS, DE, EO, HU, SK. But be ready with answer in another language!