WARNING
I'm an artist known for drawing Cartoons, Furries, and Fetish Art such as Big Bellies. So if you don't like viewing fetish art, then don't look deeper into my profile and art galleries. I'm not saying you should, but it's only for honesty if you don't like them.

Thank you for understanding.
---
ART STATUS

Point Commissions = Ask Me
Art Trades = Closed
Gifts = Friends Only
Collabs = Friends Only
I do not take paypal commissions.
I also never take requests. Unless if there's an event raffle going on that i own from when i reach to a certain number of watchers.


Where to Find Me

Except DeviantART because it's quite obvious that your already here. :V


My Birthday!
My birthday is on March 25, 2001. 3/25/01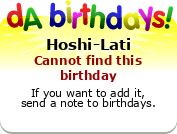 ---
I will not hesitate to block you if you continue asking me for requests, or start harassing/attacking me.
However, i will give you a chance, depending on how your behavior actions are against me.
Please keep your negative, offending, and harassing comments to yourself!