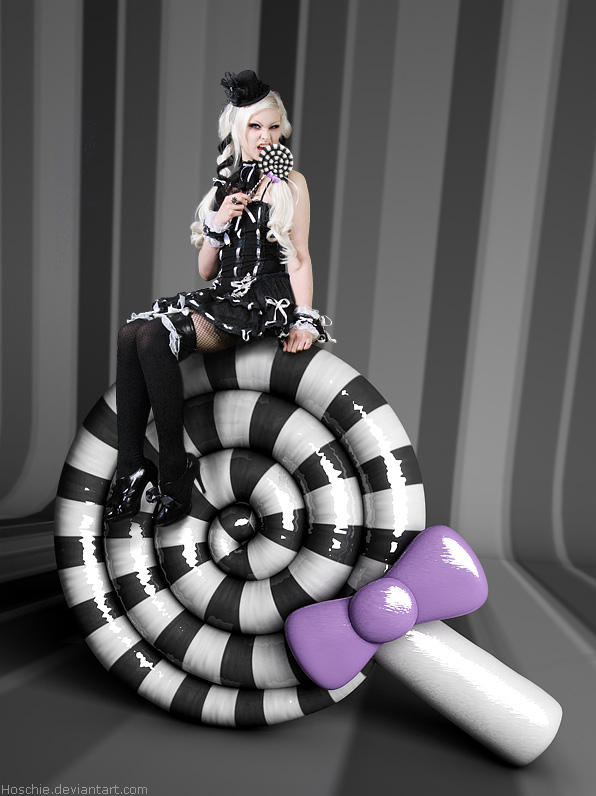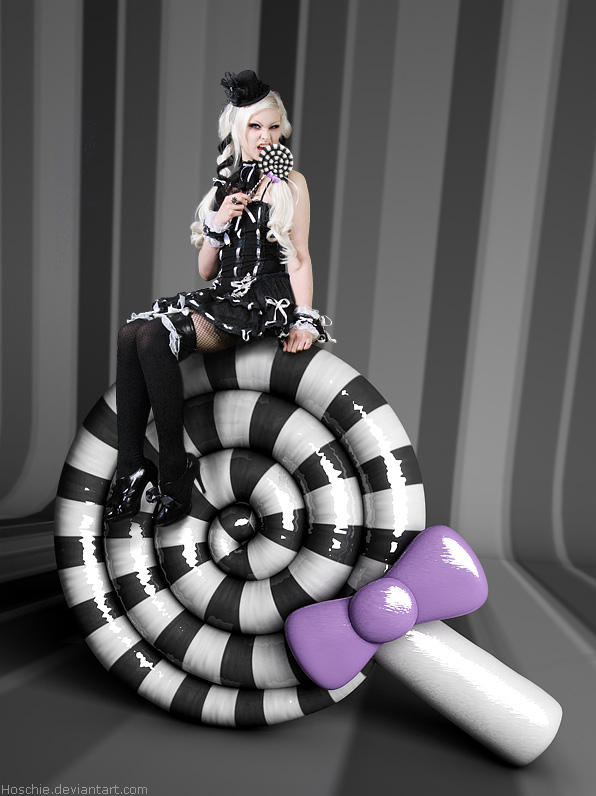 Watch
The very cute Phoebe (the model) plays lollipop girl by sitting on a giant lollipop eating a lollipop

I have to be honest I found the idea on the internet with a doll and my girlfriend forced me to interpret it

It took me about a year to finish the picture because I was not able to create a good looking lollipop *sigh* But now I'm happy with the result

InfosPhotographer:
Me
Model:
Phoebe
Location:
My studio (Greenscreen)
CGI:
Me
Software:
Cinema 4D, Aftereffects CS3 (Keylight) and Photoshop CS2
After looking at it for the first time, I thought it was pretty funny [no offense intended].

The thought used to make this peice is evident in the amount of detail the entire piece has. I always enjoy seeing piece with black and white along with an accent color, and purple is a great color of choice. I love the outfit Phoebe has on, it makes this piece of art great. The only thing on her outfit I would change is to give her shoes with less of a heel; don't get me wrong, I like them, but I feel that it would look better with a little less heel. The candy she is sitting on is adorable, wouldn't change a thing about that. If I were making this, I would have put Phoebe sitting on the stick, not the candy part; but I did not come up with this piece

Over all, you did a fantastic job! I think I speak for everyone when I say that I enjoyed it. Keep up the fine work!

The Artist thought this was FAIR
4 out of 4 deviants thought this was fair.
okay i do not mean any offense and think the picture is overall quite good, I mean the idea and the you can tell by looking at the picture the photographers skill was quite good, though i must say after my many hours of research this is not lolita. Literally lolita outfits usually pose elegance, and the skirt is usually 2 inches of the knees, never very short like that, and since lolita shows elegance like its meaning behind the name *lolita- like a sweet lover or something quite similiar to that* so lolitas do not pose such type of emotion as shown in this picture they will usualy have more elegant or cute looks going for a 1800's rich lady and i see that you may have thought of showing her as a ero-lolita meaning she can expose skin but not that much again even if its a ero-loli she should still possess elegance. Again im not saying it is a bad picture im just saying it doesnt belong in this section, please before you do any type of photography and is designing the clothes make sure to do research! Because when you do something you want to get it right! So excuse me if i offended you in anyway! :3
The Artist thought this was FAIR
3 out of 6 deviants thought this was fair.