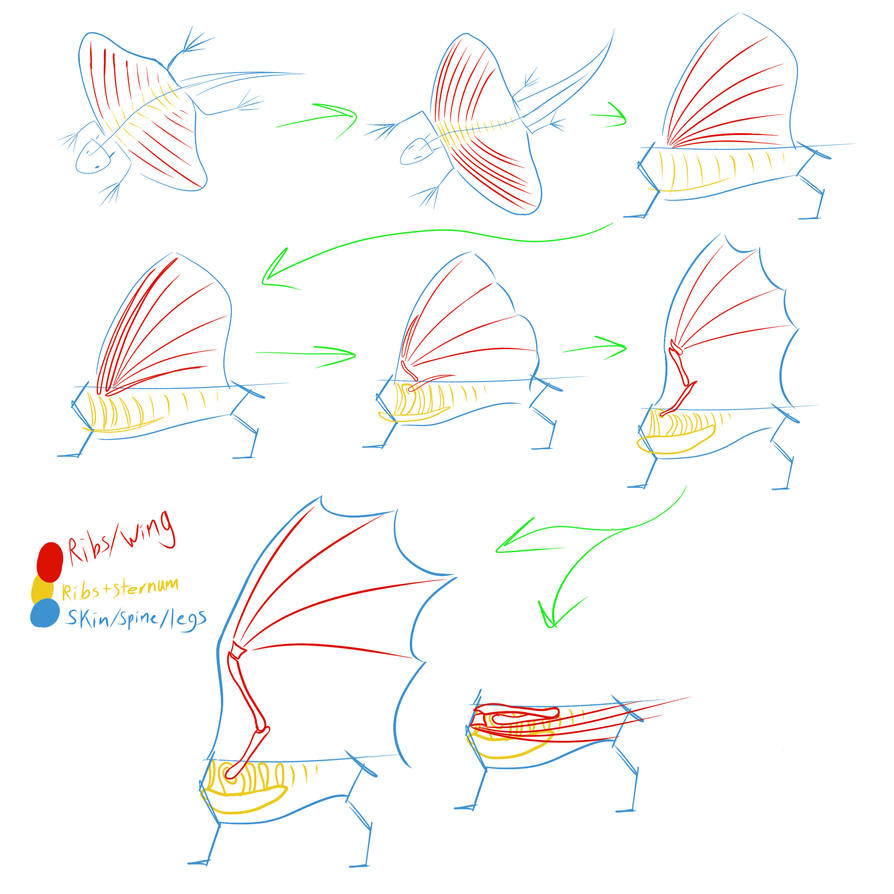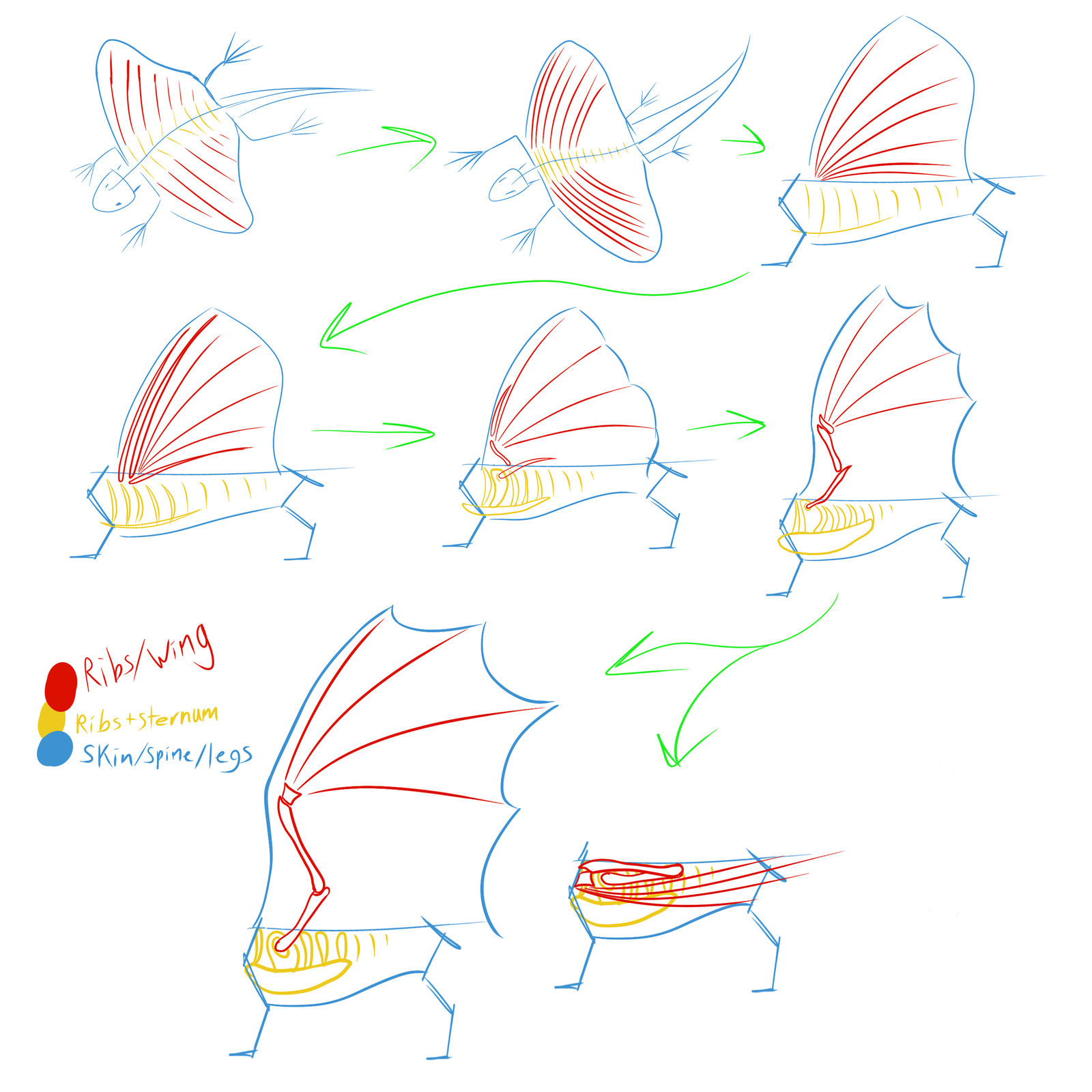 So this was inspired by someone on DA's thing that I saw a few years ago that was about a similar premise but I can't for the life of me find it! If I or someone else ever finds it I'll link it here.
Other References:
This was also inspired by some dragons in HTTYD who seem to have this sort of thing. The ones I can name right now are the Bewilderbeast (most obvious), Speed Stinger, and Hideous Zippleback.
-------------

So since Evolution doesn't like inventing new parts from nothing to often (especially something complex like a limb) and flying lizards like the Draco exist why not modify the ribs (or in Coelurosauravus' case
"Dermal Bones"
) to make Pseudo Limbs? This way Dragons of all kinds (Western, Wyvern, serpentine, etc) are still technically Tetrapods and not (or used to be) Hexapods... which other then insects don't exist... as far as we know

Ribs tend to be easy for evolution to make though which is why there's so much variation between tetrapods (four limbed animals with a back bone).

So what I did was take a gliding lizard similar to the extinct ones and over the course of millions of years took their hinged ribs and moved them to make a gliding wing (Like in 3 and 4) while moving the struts and other ribs forward to support the front half of the torso.
Over the course of evolution though some bones thicken and change until they start resembling a limb and one of the ribs in the torso thickens and starts creating a crude socket for one of these bones. Creating a pseudo scapula. The sternum also starts to thicken as primitive flight muscles start to form and attach to the thickened bones.

At the end the ribs morph into a pseudo limb and the lizards, now dragons have powered flight. Of coarse depending on how many bones you start with (in this case 7) some may become similar to wrist joints or joints in the fingers etc. For this one I think that the "fingers" would have small muscles and ligaments to bend and flex the bone and maybe cartilage as the animal is flying or when it comes to folding the wing... Or the "fingers" could be entirely cartilage while the actual bones form the limb and "wrist" joints...
I don't know, just a fun thought experiment.


Interesting.
It sounds more logical that dragons descend from tetrapods than from a branch of hexapods. The only thing missing is the structure and evolution of the muscles to make sure if the theory is plausible.
I usually prefer add the design of the wings of the glider lizards to clasic (occidental) dragons, however, that design has big limitations:
-The larger the lizard is, the wingspan must be proportionately much larger, but the ribs wings can not fold as well as the wings of other vertebrates, which exposes them to damage.
-It can only plan, but not really fly, therefore it can not launch on the ground, but it must jump from a high place, but when it is big, this becomes a problem (the adult komodo dragons for example , can not climb trees).
-And to develop muscles of flight, I do not know if the muscles of the torso can develop enough to fulfill that function (the pectorals are already occupied by the arms).
In any case, I await your opinion on the subject.

Reply

Ooo a challenge!

I would think that in the early small gliders that resemble modern Draco Lizards small muscles line the membrane and ribs for control (extending and folding the wings as well as modifying shape and such) but over millions of years, as the bones shift and thicken and stuff to make a more efficient wing the muscles also evolve and mutate and change. Perhaps new muscles evolve and stuff or a muscle, in a mutation duplicates and sticks and mutates etc. After all Tetropods, when the limbs were evolving probably had to invent new muscles as well as bone and cartilage:
I would imagine the size limit for dragons to be that of Quetzalcoatlus and smaller.
Dragons would also have hallow bones and an air sac system like birds. Perhaps they share a common ancestor or happen to evolve similar anatomies independently.
Though some air sacs may also hold hydrogen and/or methane from digestion. One or two, depending on your dragon anatomy may connect to the mouth one way or another and aid in making fire. However I would imagine there being more gas filled air sacs throughout the dragon's body. Particularly the chest, wings, and tail. Since hydrogen and methane are lighter then air gasses it'll help a mature dragon get off the ground easier and even lighter, giving room to be bigger.
However if they don't have enough gas then flight becomes harder or impossible depending on the dragon.
The smaller varieties probably don't need as much gas as a larger species as well.
As for launching they have four limbs instead of two. They could have a running start, jump, or vault like pterosaurs to get off the ground. They won't necessarily need a cliff or tree unless evolved for those habitats specifically.
Back at you

Reply

Reply

I would but muscles are a lot more complex then bone... an awful lot more of them too...
I'll do some research and see what I can come up with.
Ooo, that looks interesting! Haven't seen that one before.
Wish I could find my original inspiration... It was on DA but when I went to find it I couldn't find it anywhere. It showed ribs turning into wings like these two but was sketchy in style and uncoloured... I think it was drawn in a dark blue and black colour as well but I don't remember.

Reply

This is why I try to stay away from drawing wings that start on the arm of the wing like they do in Spyro games. Yeah, that is a pretty way of making wings, but I like a little bit of realism in my fantasy creatures lol. I base my wings on bat wings but I'm not that good at realism yet.
Reply

I prefer realism too. I always position a dragon's wings behind the shoulder to give the flight muscles room. If they're directly over the shoulder of the front limb or attached to it the flight muscles have no room and the shoulder of the front limbs will be constantly moving while in flight which would probably cause stability issues. Not to mention that the wings would be constantly moving when walking on the ground. Therefore the wings and front limbs can't be independent of each other.

This may help you:
A lot of people also make the arm of the wing far to long or make the wings far to small or overly huge. A good rule of thumb is to keep the upper arm short, the forearm longer then the humerus, and the fingers of the wing to be as long, if not slightly longer then the arm of the wing. Basically the arm should be roughly half the wing length and the fingers should be the other half.
As for body size in relation to the wings, from what I can tell (from looking at pterosaurs and bats mostly) the wingspan should be around one meter longer then the body give or take. Of course with a long tail, depending on how it's structured you might be able to get away with leaving out about half of the tail.
For example if I have a dragon that's 3 meters (10 feet) long I'm going to want to times that by 2
In doing so I get 6 meters (20 ft) + 1 = 7m (23ft) for the total wingspan. From that you can then make the wing slightly smaller or slightly larger depending on your dragon's lifestyle, behaviour, habitat etc.
Hope this helps

Reply

It does! But if you would like to, could you look at how I draw dragons and tell me what you think I do right and what I can improve on?
Here is just one thing I have done. I'd love the tips, but you don't have to sit here and constructively criticize my art if you don't want to. You just seem to know a lot about the anatomy and I've been told I need to improve by others.

Reply

Well first your dragon seems to have skipped wing day

He/she needs to get some meat on those wings!
The upper arm on the left, folded wing is noticeably shorter then the other. Since it's in pencil that's more understandable.
Speaking of the folded wing, the palm where the fingers intersect is a bit off. The outer and middle fingers look like they merge together.
A lot of people do like to exaggerate the palm of the hand, though in bats they don't have much of a palm. For them the bones that make up our palm make up the first bone of the wing fingers. While the bones where the nail sits ether ends in a claw or is missing all together.
Another thing about the folded wing is that the fold should be parallel to the body's direction. Also, even though it's covered the forearm of the folded wing looks to be much longer then the other.

Speaking of the fingers there are no joints. If you're going for a bat-like wing you're going to need to show the joints. A Subtle bump should do the trick. You don't need to exaggerate it.

The membrane between the hand and the shoulder is missing. This membrane adds area to the wing and stability. All winged vertebrates have this part. In birds, pterosaurs, and some bats even have a skinny ligament in that membrane that runs from the shoulder to the hand. That ligament helps stabilize the membrane and hand in flight.
The wings are also in a bad position on the body. They're more on the neck by the looks of it which means that the muscles have no support from the rib cage on the shoulder joint. Not only that but the front legs seem to go over the muscles which would limit the flexibility of the wing. They need to be placed back more. You had the right idea though. You could even lengthen the torso a bit if you wanted to fit the flight muscles better.
(Points on not having an elbow spike though!)

There also seems to be nothing holding up the tail. Now you can solve this by adding tail fins but if you don't want to you can also argue that the tail flattens itself like how a Flying Snake flattens it's body during flight so it's not dragging.
The wings are actually a pretty good size, in fact you could actually shorten the finger part a little if you wanted. The place where the membrane attaches to the tail is also good, you can even afford to go a little further down if you wanted. Though the membrane on the folded wing appears to be attaching to the outer part of the wing rather then the innermost finger.
Here's an altered version I made to make things a little more clear:
The green is for optional stuff while the red is anatomical.

Reply

Thank you so much! I'll save the picture to look at later too

Hmm, while I want the palm area to be realistic, I really like the way it looks when people add them to the wings. But to be honest I don't know why they would need palms unless they're maybe Wyverns.
Ooh I didn't know there were flying snakes!

I love snakes!!!
As for the tail part, I doubt spikes would count but would spikes at the end of the tail help at all?
Which elbow would the spikes be on? I know some people add spikes on the legs of their dragons but I've never liked that. I just imagine the dragons walking and every step they take they stab themselves in the rib with it...
Reply

You're welcome

I would think that the palms would be for if the dragon/wyvern was walking on their wings like a pterosaur or used the claws (if they have any) to climb on rocks and such.... Though depending on how in depth you make your dragons you could also argue that the palm is a remnant of their evolution... But that's only my guess.


Yeah, Flying Tree Snakes are cool!
They use their ribs to flatten their bodies while in the air to glide down to a branch they're aiming for. It keeps them from just plummeting down once they made the "leap" XD
The spikes can work.. if there's a membrane between them.
Something like this:
As for Elbow Spikes I mean something like these:
Elbow Spikes would not only probably pull on the membrane between the last finger and body and pull on muscles but also cause problems folding and flapping the wing. The elbow and wing wouldn't be able to move properly. Not only that but the fingers (if the fingers are positioned right) already provide all the support the membrane needs. You don't need the extra spike. (Not only that but what bone or piece of cartilage would it even be from?)
Plus no flying or gliding animal I know of has an Elbow Spike

Reply

Oops! I thought I had already replied. Sorry I took so long ;v;
Yeah. I thought they were for grabbing things with the wings, because even bats can walk on their wings but they can't grab.
Oh my goodness it's so cute ;w;
I waaaaaaaaaant it!
A wing spike can look okay, but something about the way the wing is shaped when you add one just doesn't feel quite natural to me. hat's just me though. But if I ever draw a dragon with these, I will keep this in mind

I think people just do it for style... It looks okay as a style.
Reply

Yeah, true, a lot of people draw dragon wings in certain styles just for the look and not for actual real world anatomy.
However if you do want to be more or less anatomically correct it's important to do research, ask questions, and use references... as well as learn from mistakes and such. After all all artists change, evolve and improve over time.

Reply
(1 Reply)

Nice, maybe next time I'll ask you to make a dragon wing one
Reply

Reply

Reply

this is very interesting concept.
Reply

Indeed.... I would credit the person I originally saw the idea from but I can't find them! They've literally disappeared off the face of the internet. I tried searching though similar images here (which was how I discovered it in the first place), I tried google, I tried Pinterest, the Wayback Machine, everything I could think of and nothing....
Though I did see other people suggesting something like this when looking up the feasibility of Western Dragons and other Hexapods in threads and comment chains and things.

Reply

i can understand that you want to give credit the person who gave you the idea.

That is same that you can't find the artist.

a similar thing happen to me.
Reply

Yes, it especially sucks that I can't remember the username of the artist so I have no idea if they only deleted the image or killed their account entirely. Though I found it especially weird that Pinterest and google didn't have it. I often find images that are no longer on DA in searches on those... Makes me all the more curious as to what happened

.... It also doesn't help that I never favoured or bookmarked the image....

Reply

There are so many users on DA that it is hard to remember the username. That is hard if you have no idea if they only deleted the image or their account on DA.


I have very similar story to what you went through.

please let me know if you want to hear it.
Reply

Indeed.
And sure!

Reply

I was looking up Schleich unicorn figures on google. When i came across a custom pink Schleich unicorn figure. I clicked on the image and went to visit the page. I added the custom Schleich pink unicorn to my favorites.

I don't know when the owner took down the image. I don't remember the name of the user on DA. I don't know why. I think the the owner used the first Schleich unicorn mold to repaint.

I do remember that owner of the picture will let me know if she ever painted another one like it. Because the owner of the DA took down the picture down , i can't find the photograph using google images.

i only regret that i didn't save the picture to my google drive.
Reply

This is an interesting concept. Especially when bat style wings are considered to be and adapted arm with over extended fingers. For a four legged winged dragon to have them that would mean they used to have six limbs. This gives another evolution explanation.
Reply

Yep, especially since (as far as we know) the limit for Tetrapods when it comes to limbs is 4 and the amount of fingers is 8 because we all came from a lobe-finned fish with four limbs and 8 fingers. No animal with a back bone has ever had more then four limbs (Of course the fossil record can always surprise us with how fragmented it is like with the discovery of Yi Qi (Yee-Chee)). So this was mine and some other random Deviant that I can't find idea to solve that issue.
Especially since evolution usually likes to use what's already there. It's very rare for a brand new trait that never existed previously to evolve.

Reply