(My name is stEE-von)
MADNESS IS AMAZINGNESS!
Haters can go suck a lemon.

I might stumble and slip in life but it's ok
- I know how to swim.


Foxes Of The Nightmare Realm

(If you manage to gain both my respect and my trust I'll send you a note offering you a spot among these fine souls I call my friends.)





My actual little sister

Those I meet in real life



Those I meet online

"Freakshow" by Skillet
www.youtube.com/watch?v=EXLJj8…

Honorary Foxes

(close acquaintances whom I've grown more and more comfortable with)



Passionate Squad
(These acquaintance of mine and I have all dealt with the same darkness and overcame it.)












(fitting playlist:
www.youtube.com/playlist?list=…
)
I love foxes!







Please don't claim or assume to know me unless you have seriously taken the time to. This site only gives you a gimps of who I am.
:thumb338437842:


-A

-A
-A
I'm a
who does mainly tradition art with very few digital exceptions.

I am also (mostly) a
.



I have a strong interest in entertainment of all kinds. From movies and theater, to TV shows and cartoons. To even literature of a many forms. What I enjoy the most are characters and stories that are not only entertaining but also well thought out, relateable, and grow. I especially like it when a character doesn't feel like they've takes an unbelievable step back in their growth.



Even if you think you're an Aspie, you should still speak to someone who is a specialist and professional before making such claims.
I received my official diagnosis back in 2012, but I do believe it is something you're born with. It can be hard to deal with socially but my friends and family have excepted me and my madness. Madness is Amazingness! While it can be a struggle, I can't imagine giving it up if I could. I have never thought of being an Aspie as a disorder, but just another way of looking at the world.
:thumb200055572:



:thumb101812273:



I love who I am and so does Jesus.




WHAT GOD KNOWS ABOUT ME
IS INFINITELY MORE IMPORTANT
THAN WHAT OTHERS THINK ABOUT ME.

Make Their Day    "Making the audience laugh and cry, one person at a time" for me it is more than a way to perform, but a way I want to live my life. When I was in high school I learned this motto and mission and it has forever changed my life. I have always been interested in entertaining others through performance, starting out at home doing skits with my sisters and than in highschool and college classes. Through the years I learned a lot of ticks that help to make a performance better for an audience, but it was my high school music teacher who taught me the best way to entertain both while I am on stage and off.
     I started performing in plays in front of audience other than family in elementary school in Mrs. Johnson's class for her Halloween play she had every year and then as part of cast in the school play Attack of the Killer Grasshoppers in fifth grade. Both these early stage moments made me realized how much I loved how people react to a pla

I'm me and proud to be.     When we're little we don't really feel that we belong. We try to change ourselves to please other people. Then when that doesn't work we try to not show how sad it makes us feel. In my early life I struggled to be accepted because of who I am and how I look. It took me years to finally tune out the negatives that were being thrown at me and find the magic within myself and believe in me.
     I went to a preschool that was located in a Native American reservation. I had recently moved into the mountain community and hadn't been adopted yet. Despite being part Native American, I was teased for being pale and was called, "White Cheeks" in cruel ways.
     More names and labels came in elementary school and all the way to high school. "Witch" was something I was called once and still can't understand why. Up into high school family, a few friends I had managed to make, and teachers trie

What being a Goth means to me.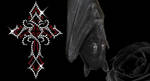 -To accept others for who they are as a person, and not by their looks.
-To find all the beauty you can in the world, even when the world is ugly.
-To appreciate the beauty of all things God has created. From the twisting branches above our heads to the bones beneath our skin.
-To find God and to see the Light, even in the darkest times and places.
-To always remember that God made you who you are. Embrace it 'cause He never makes mistakes.
Favourite Visual Artist
KicsterAsh, Tybay, CherryViolets, briannacherrygarcia
Favourite TV Shows
Gravity Falls, Once Upon a Time, Sleepy Hollow, FaceOff, Beauty and the Beast, Milo Murphy's Law, Phineas and Ferb, Castle, The Mentalist, Elementary, Doctor Who, Legend of the Seeker, Heros of Cosplay, ect.
Favourite Bands / Musical Artists
Britt Nicole, Skillet, Imagine Dragons, Linkin Park, Shinedown, The Band Perry, One Republic, Two Steps From Hell, City of the Fallen, Audiomachine, Epic Score, ect.
Favourite Books
Skulduggery Pleasant series, Sherlock Holmes stories, The Looking Glass Wars, Splintered, Alice in Wonderland, Alice Through the Looking Glass, Maximum Ride, The Bible, ect.
Tools of the Trade
mechanical pencils, sharpies, color pencils, DA muro, Paint. My new tablet
Other Interests
Alex Hirsch