490 Favourites
23 Comments
2K Views
«The Liberation», from the triptych «Broken birds»
«The first of them died and the black branches triumphantly closed up over him as there was no resistance any more. The other was wounded from his beak to the tail, having gone through all circles of hell but now he is getting rid of his inner chains: the lies he had been living all this time, survivor's guilt and loneliness. It's hard, just like trying to swim to the surface from under the ice.
How many times has he tried to break this transparent, seemingly thin barrier? Above is the sun; all life is. And here, in the red river, there are only the grasping branches, the shadows of the past.
But now the ice is being crushed both from the inside and from the outside. We'll make it».
Other works of this series: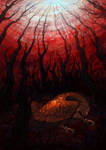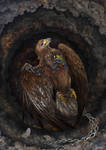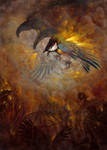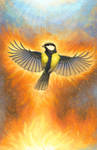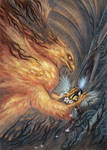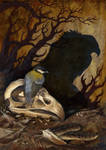 You can buy print here:
www.etsy.com/listing/620010218…
Full series and a little about it:
www.deviantart.com/hontor/jour…
IMAGE DETAILS
Image size
1200x1687px 403.9 KB