«Titmouse's Birthday»
«The Universe loves you».
We learned about Titmouse's Birthday by accident.
Iva: "We were sitting, talking and remembering how it all started a year ago. We had just found out that Titmouse was 58 years old. I decided to ask him jokingly if he was still 58. "Yes", he replied to me and added: "But tomorrow I will be 59".
My brain starts to boil when I realize that he is 59. He is like that and he is 59! No way!"
For a long time I have been planning to draw a space tit nestling in a hand full of stars. «In spite of all the troubles that have happened to you The Universe loves you». Recently the idea came in handy.
I drew the picture early in the morning. I needed to hurry if I wanted to present it to Titmouse on his Birthday and I managed to finish it in four hours.
At that moment we didn't know the fact that 30 years ago Eagle was killed a week before Titmouse's Birthday. Titmouse buried Eagle on his Birthday. There was nothing to celebrate.
But now, for the first time in 33 years, Titmouse was meeting his Birthday among those who really accepted him.

Other works of this series: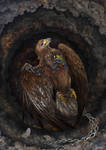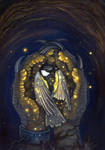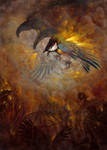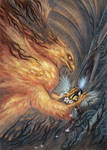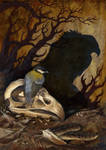 Full series and a little about it:
www.deviantart.com/hontor/jour…
Image size
1333x1000px 131.73 KB