Hi everyone !
Just a little note to let you know I'm reopening commissions ! Not sure for how long, but they're open

The link to my commission page is below, please read it carefully before sending me an email

Cheers !
***
I opened a Ko-fi page !
ko-fi.com/missholly
Tips help me focus more on personal art so that I can make more pieces like the ones I posted recently ! In exchange for big tips, I send contributors a thank you post card via post

You can see the various designs available at the moment in this picture :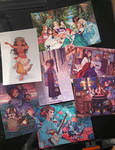 They came out great ! If you tip me 3 coffees or more and leave me your address, I'll send you one via post

Please make sure to include a little note with your details and your pick of design !
(I send worldwide so it doesn't matter where you live)
***
COMMISSIONS : OPEN
Please check out my commission page if you would like information on custom illustrations ! Thanks !