Hi there !
Have you guys been participating in Inktober this year ?
I missed it last year but I really wanted to take part this year. I'm doing ink paintings of my witchsona and her familiar for the occasion

I won't spam you with them here but you can find links to the others in this deviation :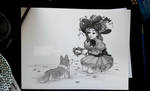 I'll be closing commissions around the end of the month, for maybe two weeks, I'm not sure yet. If you have anything urgent, please don't delay ! Otherwise it will have to wait for reopening

I'll let you guys know when that is !
Thanks !
***
I mentioned it before but I opened a Ko-fi page a while back :
ko-fi.com/missholly
Tips help me focus more on personal art so that I can make more pieces like the ones I posted recently ! In exchange for big tips, I send contributors a thank you post card via post

Because the princesses pic was so loved, I had it printed as well.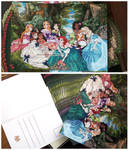 They came out great ! If you tip me 3 coffees or more and leave me your address, I'll send you one via post

(I send worldwide so it doesn't matter where you live)
I wasn't very productive this summer due to illness, but I'm slowly getting back to work and taking commissions again. I have to keep my schedule light enough still, so if you are aiming for gifts with deadline before the end of the year, please do it in advance this year ! I will close commissions in January, and after that I'm not sure

Be well and enjoy fall !!
***
COMMISSIONS :
Please check out my commission page if you would like information on custom illustrations ! Thanks !