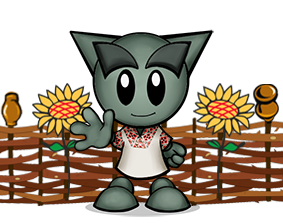 Information about Ukraine:
Ukraine is a country in Central and Eastern Europe. It has an area of 603,628 km², making it the largest country in Europe part.
First, the term"Ukraine" appeared in 1187 in Kyivan Chronicles of Kyivan Rus. It was the name of the centre and south lands of Rus. Now, these lands belong to Ukraine.
After Destroying of Kyivan Rus, Ukraine raised as the Kingdom of Rus, but in Chronics it was named Ukraine several times. After 1349 Ukraine was divided by Poland and Lithuanian-Belarus Commonwealth. Anyway, as nation Ukrainians did not disappear. In Europe, they were known as Rutens (Ruthenians) and played the main role in the wars as Cossacks.
Plus Ukraine was called also Rus till the Moscow Kingdom renamed themselves to Russia in 1713. After that Ukraine became Ukraine-Rus and in 18 century was officially and finally renamed to Ukraine in the Ukrainian Constitution of P. Orlyk.
Ukraine from Slavonic means inland. the idea, that Ukraine means in Russian "border" was created by Russian chauvinists. Because of the Russian word "okraine", that means "border" appeared in the Russian language only in 19 century. Before that Russians used the Ukrainian word "okolyca".